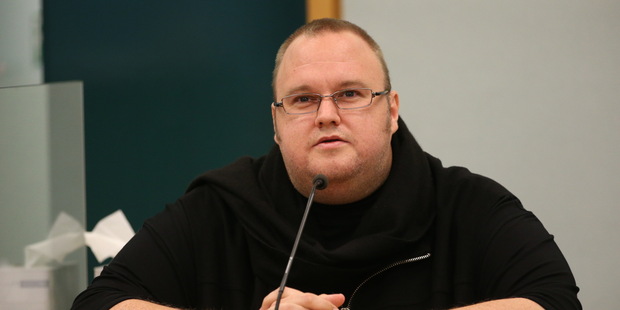 He wasn't David Jones, QC. He was The Eviscerator, QC.
Dominating, electrifying and towering, he conducted his inquisition of Kim Dotcom with a biblical zeal. They battled across Courtroom 6, just metres apart, in day two of the trial of Act MP John Banks on a charge of filing a false electoral return.
At issue are donations from two donors - and yesterday the first donor to testify took the stand.
Internet tycoon Kim Dotcom told of happier times for both himself and Banks. There was the famously forgotten visit by helicopter, then the day Banks returned with wife Amanda for lunch and spoke of the difficulties of fundraising. There was the offer of a donation and $50,000 deposited in two cheques of $25,000. Mr Dotcom alleged it was done at Banks' instructions, so it could be hidden.
Then the good times turned bad. There was the failed attempt to buy the Coatesville mansion, then prison and a cell with a thin foam mattress. Mt Eden prison was in Banks' electorate so Mr Dotcom's lawyers reached out, unsuccessfully, for help.
"He didn't want to assist me. I was disappointed because I considered him a friend."
It had all been said before - but then came The Eviscerator. Mr Jones eyed up Mr Dotcom, stood up and tucked in. He drew out Mr Dotcom's criminal convictions, computer hacking and insider trading, like drawing the innards from a beast. They came slowly, painfully. When Mr Dotcom said he pleaded guilty to the insider trading charge when he was really innocent, Mr Jones whipped back: "So you were dishonest in dealing with the dishonesty charges?"
For hours he grilled Mr Dotcom. It was compelling and electrifying; all the more as Mr Dotcom emerged as a capable, but frustrated, witness.
Needled by Mr Jones as a "liar", his discomfort became evident as he snapped back accusing Banks of the same. Justice Edwin Wylie intervened and Mr Dotcom explained: "I'm just getting a little upset."
But Mr Jones was unrelenting. "Let's bring matters a little closer to home," he said, asking Mr Dotcom about the control he had over witnesses supporting his evidence, including estranged wife Mona. And then, astonishingly, Mr Jones down-trou'd Mr Dotcom, exposing one of the tycoon's extradition aces. Mr Dotcom has long said he can prove Prime Minister John Key knew of his presence in New Zealand before the raid.
In questioning over Mr Dotcom's sumptuous 2010 New Year's Eve fireworks display, Mr Dotcom offered without prompting the claim that Banks had told the PM of the display. "He wanted him to come and watch it," he said. "Is that what you call a nuke?" asked Mr Jones.
The Eviscerated replied: "That was one of those things. There are others."
Banks smiled as he left the court.