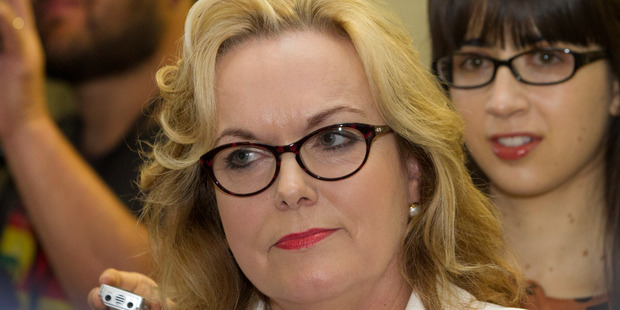 Justice Minister Judith Collins has returned from stress leave, but hopes the Budget had put her woes behind her appear to be in vain as the Opposition has lined up further questions in Parliament today.
Ms Collins was advised to take a few days leave by the Prime Minister after she hit out at a TVNZ journalist while under pressure from ongoing coverage of her interactions with Oravida in China and the resignation of her friend Maurice Williamson.
* John Armstrong: Peters' smoking gun backfires
* Peters rejects Horan claims over race horse ownership
* Audrey Young: A big question hanging over Judith Collins
* Rodney Hide: Week of horror for National
It was also revealed that she faced health concerns, although she would not say what those were.
Ms Collins was back for the Budget last week and back into her job full-time this week.
On the way into caucus this morning, she said the tests for the unspecified health issue had been good and while there was still one thing remaining to deal with "apart from that, it should be great."
She spent her time off "shifting my furniture, getting stuck into the garden, but I also did some economic development, which is shopping."
Ms Collins will face a question from Labour today on her justice portfolio, and NZ First leader Winston Peters has another question for the Prime Minister about Ms Collins.
Mr Peters claimed last week to have information that would get Ms Collins sacked, but that fell flat after it amounted to pointing out she had not declared the accommodation and travel paid for by the Chinese authorities in her return to the Register of Pecuniary Interests.
The rules specify official Parliamentary travel does not have to be disclosed, but that does not appear to cover ministerial travel, and most ministers - including the Prime Minister - do declare it.
Ms Collins said she believed the Opposition would be better off focusing on the big issues "but if they want to spend their time doing that, I can't do much about it."