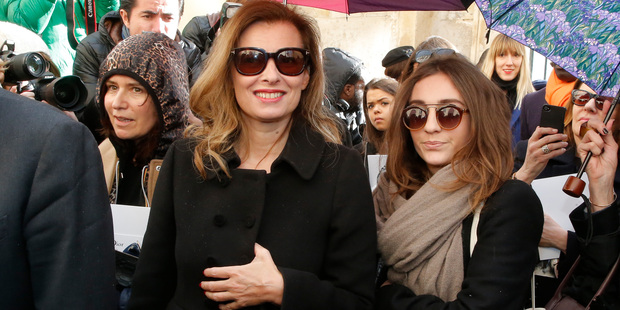 Nicolas Sarkozy once sought to seduce Valerie Trierweiler, President Francois Hollande's spurned ex-girlfriend, but she turned him down as a "cad'', a new book claims.
Mr Sarkozy is said to have tried to charm Miss Trierweiler, then 42, at a Bastille Day garden party at the Elysee Palace two months after his 2007 election, Patrice Machuret writes in L'Enfant Terrible, Life at the Elysee under Sarkozy.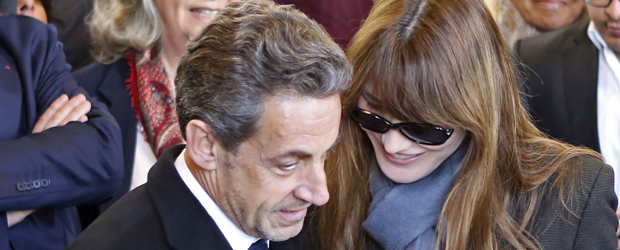 Former French President Nicolas Sarkozy and wife Carla Bruni-Sarkozy. Photo/AP.
The then president, whose marriage to Cecilia Ciganer, his second wife, was on the verge of breaking up at the time, is said to have "made a pass'' at Miss Trierweiler, a political journalist who for years had been having a secret affair with Mr Hollande, then the Socialist party leader.
"You are beautiful. We should see each other,'' Mr Sarkozy is said to have whispered in the ear of Miss Trierweiler, who became France's first lady in 2012 but was dumped by Mr Hollande in January.
Read more:
* Fresh start for under-fire Hollande
* Support for National Front stuns France
* French political mood darkens
* Secret tapes embarrass Sarkozy

The Paris Match journalist allegedly rebuffed Mr Sarkozy, later saying, "He's a cad,'' the book claims. Clearly annoyed, Mr Sarkozy is then said to have exclaimed: "Who does she think she is?''
The book alleges the incident explains the evident enmity between Miss Trierweiler and the former president since Mr Hollande's 2012 election.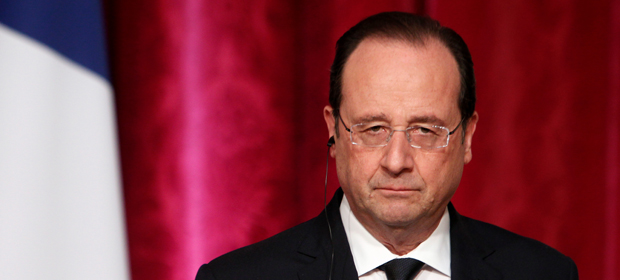 French President Francois Hollande. Photo/AP.
That hostility was allegedly clear at Nelson Mandela's funeral in Johannesburg in December, where Mr Sarkozy is said to have cruelly quipped that Miss Trierweiler looked like Francois Mitterrand, the late Socialist president, in her oversized hat.
Mr Sarkozy's entourage is reported to have firmly denied the rumour about any pass, saying: "Valerie Trierweiler is absolutely not the former president's type.''