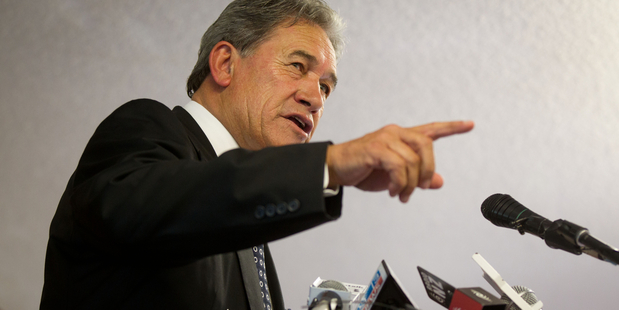 Winston Peters has gotten to the very heart of the vital matter of whether Judith Collins is guilty of such a serious conflict of interest that she would have to be sacked from the Cabinet forthwith.
In tandem with Labour's Grant Robertson, the New Zealand First leader has pieced together a jigsaw of separate events and happenings involving Collins, the milk-exporting company Oravida, and the Chinese border agency which blocked dairy imports after the Fonterra botulism scare last year.
It goes beyond Collins creating the "perception" of a conflict of interest — something the Cabinet Manual stresses Cabinet ministers must avoid and which Collins acknowledges her actions created.
The two Opposition parties claim enough information has now seeped into the public domain to suggest Collins had a real conflict of interest — one from which she stood to benefit from financially.
Unfortunately for Peters and Robertson, a rather vital piece of the jigsaw is missing.
That piece, which would join all the dots, is proof that Collins lobbied a Chinese official to exempt Oravida from China's freeze on dairy imports.
Without that proof — and Collins strenuously denies that she engaged in any such behaviour — the evidence remains circumstantial and any conclusions are therefore only conjecture.
The latter commodity is not sufficient reason for John Key to relieve Collins of her ministerial warrants; he has to take his minister at her word. If that word is found to be in conflict with the truth, however, then he will have to dump her from his ministry.
Given she has issued repeated denials in the House, she would probably have to leave Parliament altogether if she is found to have been economical with the truth. That Collins is risking such a tough sanction suggests she has been truthful.
Regardless, Peters and Robertson are unlikely to discover exactly what, if anything, she said to the Chinese official.
So Peters took a different tack in Parliament yesterday. He argued that too many things had happened not to favour the view that Collins had gone in to bat for Oravida.
Anyone not buying into that view needed to explain away the apparent large number of credibility-stretching coincidences — for example, the presence of the Chinese official at the now-infamous dinner in Beijing because he was a friend of Stone Shi, Oravida's founder.
Given the Opposition yesterday failed to get Collins to admit to anything or change her story, her and Key's inclination will be to tough things out.
Peters says he has more to come on this matter. But he needs the protection of parliamentary privilege to use it to maximum effect. After today's sitting, Parliament goes into recess for two weeks. And if a week is a long time in politics, then two weeks is a very, very long time in politics, especially in an election year.