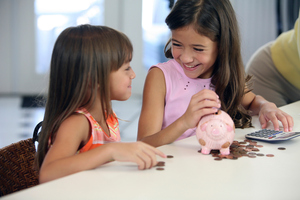 Okay, as a change from being the guy who sits back and lobs grenades of cynicism at the easy targets, here's an actual idea for an election year policy that will be a winner (at least in my house): tax-free savings accounts for children.
Being parents who every now and then like to take a crack at this thing called responsibility, the Beloved and I set up savings accounts for the offspring, way back when they were teeny tiny. Now, through the annual emptying of the change jar plus an inheritance from Grandma plus a bit of parental topping-up, there is a sum of money that probably amounts to a start towards the deposit on the down payment for the first-instalment of their lives.
The other day, because it is that time of the year, the Withholding Tax Certificate from the bank arrived. And it seemed to me, the parental unit, somehow unfair that these kids were losing 33 per cent of the interest they were gaining on this meagre sum of money.
And the next thing that occurred to me was to wonder how much political will it would take to knock this taxation on the head.
Taxation itself is not the issue. Taxation is a necessary evil in our world and is the best possible way yet invented/discovered for us to pay for the stuff we all need, like schools, roads and hospitals - and also stuff we don't need, like list MPs. But in a world of relentless taxation what would be so wrong with cutting our youngest members a bit of a break?
These kids, our kids, not just my kids, are facing a world of student debt and the inability to ever afford their own home unless: (a) they want to live in Huntly; or (b) they start up their own mega-successful internet company at age 16 and/or become the next Lorde, in which case they will be expected to look after their parents during our old age.
Where once we had a country where the school-work-house-retirement pathway was encrypted in our DNA, now there is just this big messy puddle of future debt into which the next generation is expected to dive. So what would be so wrong with at least helping them build the diving board from which they can launch themselves?
Tax-free savings accounts for kids. How much can that possibly cost the Government, compared with the political love it would engender?
In my ideal world of tax-free accounts, you could open your account on the day you were born and it would remain tax-exempt until you turn 18 years old. I figure that when you are old enough to vote, you are old enough to endure the misery of taxation. Thus even if you are over 18 and: (a) still look like a child (Simon Bridges); or (b) still have a childish sense of humour (Paul "that lady has a moustache and a rude last name" Henry); or (c) ride your BMX down the footpath on Ponsonby Rd like a child (Matthew Ridge), you will still have to pay tax.
Of course, the most obvious danger in such a scheme is that people and corporations who are well over 18 will shamelessly take advantage of this to earn squillions of dollars in tax-free interest. To avoid three-billion tax-exempt dollars resting for a few years in an account labelled "Little Jimmy's Education Fund" there would obviously need to be some fairly rigorous policing of the qualification standards for such accounts. My suggestion of random phone-calls to the named account-holder, asking age-appropriate questions like "Who is your favourite Wiggle?" and "What is your favourite Taylor Swift song?" is probably not the best way to go, so I might just leave that bit in the hands of the banking/taxation experts.
Similarly, there would need to be policing to stop unscrupulous parents abusing this tax-exemption by parking their own money in their kids' account and later using it for parental purposes. Possibly every withdrawal over a certain amount, from the account, would have to be explained to the bank. "To buy a Wii U" would pass muster, for example, while "because Dad is having a mid-life crisis and wants to buy that jet-ski he's been saving for" would not. Again, this is probably an area for people who actually know the ins-and-outs of tax law to work out.
But, in theory, am I not right in thinking that it kinda sucks that my 14 and 16-year-old kids, who should really have to worry only about passing NCEA, are getting taxed on money their grandma left them after she passed away?
Come on all you political animals out there clamouring for our votes in 2014, give the kids a (tax) break. You'll get my vote.