Sharples says parties simply using each other.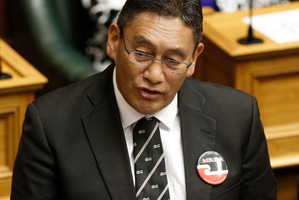 Mana Party leader Hone Harawira has denied his overtures to Kim Dotcom's internet Party are all about money, saying that money carried downsides for Mana and he did not expect Dotcom to bankroll his party.
Mr Dotcom is due to speak at the Mana Party's annual conference in Rotorua on Saturday and the party will decide whether to set up a formal alliance between the internet Party and Mana to contest the election.
Maori Party MP Pita Sharples said yesterday he was perplexed about Mr Harawira's willingness to entertain joining up with the internet Party, saying Dotcom had done "absolutely nothing" for Maori.
"It's totally politically motivated and he's using the Mana Party and they're probably using him." He said the only possible motivation he could see for the Mana Party was money. "What else is he offering? Seriously. What else is he offering that could be useful for Mana?"
However, Mr Harawira said it was not about the money and he did not intend to ask for any.
"It brings a lot of downsides and you just need to look at the Mana Facebook page to see what those are. This is about exploring opportunities to grow Mana to be an effective force in Parliament."
He said he was more interested in the internet Party's app to sign up new members and the possibility an alliance could deliver more MPs into Parliament for Mana.
Mr Harawira also said having Mr Dotcom and wealthy Gareth Morgan at its conference was not contrary to Mana's claims to represent the poor and dispossessed.
"Kim Dotcom's got a s***load of money, so does Gareth Morgan. And both of them recognise, I think, that the rich could be paying more taxes. If a relationship with one or both of them could help grow that understanding that's a plus for all New Zealanders."
He said Mana Party members would decide if there would be any alliance, rather than himself or the executive. Some of those members, including Sue Bradford, have said Mana should not be talking to Mr Dotcom.
Mr Harawira left the Maori Party to set up the Mana Party after ongoing disagreements over its relationship with National. He said he held nothing against the party, but the coalition had cost it dearly.