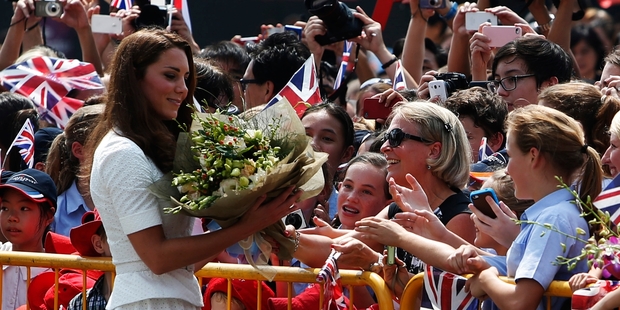 As the nation awaits the visit of Prince William and the Duchess of Cambridge, MPs have been sent a guide to help with tricky issues of royal protocol. Among other things, it offers advice on how to greet the royal couple. For women, it's a curtsy; men are advised to perform a "neck bow", bending the head but not the back as well.
In the gun
John Key may have ruled out more privatisations, but that hasn't stopped politicians thinking about the ownership of some Crown companies. Two reviews into Landcorp are due soon, and are likely to question the wisdom of the Government remaining a corporate farmer. There are also questions over what to do with Kordia. Since it got rid of internet provider Orcon, 75 per cent of Kordia's business is in Australia, which some feel is a bit high for a New Zealand state-owned enterprise. The SOE's strategy is to consolidate, rather than continue to expand in Australia, and to increase its local business. Kordia may also have its eye on four blocks of unused spectrum that Sky TV returned to the Crown, as ministers ponder what to do with the unused capacity.
Flying too high
Lobbying over Air New Zealand's "deep alliance" with Singapore Air is picking up a notch after Jetstar announced it was canning its Auckland-Singapore route. Competitors fear Air NZ's co-ordinated sales and codeshare arrangement with Singapore and its SilkAir subsidiary on routes to Britain, Europe and key southeast Asian markets. Auckland Airport and others have been telling ministers and regulators the national carrier could get too much market dominance. But the Government is still the largest shareholder in Air NZ, and although ministers like competition, there is a perception they may act to protect their investment.
Bait and wait
This week's prize for audacious PR goes to pest control company Flick Anticimex, for its press release warning that "Giant sheep-sized rats could become a reality". Full marks for trying, but the scientific study on which the release was based suggests super-sized rodents might develop over evolutionary time - millennia - which is a long time to wait for a new revenue stream combating monster rats.
Winning style
Retiring National MP Colin King is a nice bloke who never made a huge impact in Parliament. But he turns out to be a man of hidden talents, producing a match-winning performance in the Parliament vs Diplomats cricket match. In a close clash, the parliamentary team triumphed, King taking two tricky catches to tip the balance.
Rich-list lures
The latest attempt to create a business visa to attract rich entrepreneurs looks destined to be as successful as the last version, which is being revised because it attracted "low quality" applicants. Now it is proposed to give extra points for those willing to set up businesses outside Auckland, which seems unlikely to entice the wealthy go-getters the Government is looking for. Only half-jokingly, one official once told ministers the simplest way to raise money from passports would be for diplomats to walk the streets of Moscow and Los Angeles, offering to sell them for $1 million a pop and saying they had to be used within a year. The idea never caught on, but it might be more effective than fiddling with the visa rules.
Cartel questions
The Carter Holt Harvey price-fixing case raises a question: what has happened to the proposal to make cartel behaviour a criminal offence? The company was fined $1.85 million by the High Court for price fixing in the Auckland commercial timber market, though its actions were described as being at the lower end of offending. The bill proposing criminal sanctions for serious cartel offending has been stuck in Parliament for almost a year and the Government has shown no interest in passing it. It seems unlikely anything will change before the election.
Seeing both sides
Parties are picking up the pace in candidate selections, and making interesting choices. Penny Gaylor is standing for Labour in the safe National seat of Taranaki-King Country, and is one of the few candidates to have worked for both main parties, having been a press secretary for David Lange and Murray McCully. Will she get a high place on the list?