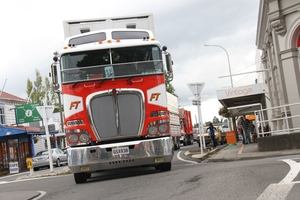 Never mind all those surveys and statistics - when businesses start buying trucks, you know things are on the way up. New truck sales were up 35 per cent in January and February, compared to last year. The statistics also give an insight into where growth is likely to come from - sales of light trucks, more common among tradies and small businesses, are up 74 per cent, medium-sized truck sales up 52 per cent and heavy trucks up 7.2 per cent.
Double whammy
Many employers tell horror stories about being hauled before the Employment Court and getting hit with payouts, when they feel they have acted perfectly reasonably. Well, there could be more to worry about. Chapman Tripp is warning clients that more disgruntled employees are taking employment-related matters to the Human Rights Commission if they believe they have been discriminated against or harassed in a way that breaches the Human Rights Act. Few people realise an unjustified dismissal or disadvantage claim can be taken to either body, but not both. Also, the 90-day time limit does not apply to human rights cases, and the Human Rights Tribunal has been making more generous payouts lately.
Fast-track safety
Last week, the Health and Safety Reform Bill was introduced into Parliament. It aims to overhaul workplace safety, and most notably, puts more onus on directors and managers to take responsibility for their workers' safety. Already there are rumblings - some employers are concerned that they have only until April 11 to get their heads around the proposals and make their submissions. Even more worrying is the fact that alongside the bill's passage through Parliament, officials are also working on two mammoth sets of regulations. Any changes to the bill could mean changes to the regulations and vice versa. This may prove a real test for Labour Minister Simon Bridges (left) and his ability in managing difficult legislation ... though at the moment he has his hands full with his recently born second child.
Neutrally pleased
A few eyebrows were raised around Wellington by Treasury Secretary Gabriel Makhlouf's press release welcoming Prime Minister John Key's announcement on direct trading of the New Zealand dollar and the Chinese renminbi. He may well have been proud of his officials' work in the area, and right about the benefits, but the release from a politically neutral civil servant was a little surprising.
Outward bound
The announcement of the election date means ministers will be keen to get their travelling done before the campaign starts. While John Key is making news in China, Steven Joyce has been on the road in Indonesia and Vietnam. Meanwhile, Nikki Kaye visited the Philippines before joining Tim Groser and the PM in Beijing. Pita Sharples is off to Malaysia, and Foreign Minister Murray McCully is becoming the political equivalent of Bob Dylan with his "never ending tour", beating the drum for New Zealand's place on the United Nations Security Council.
Cross over wires
Wellington's trolley buses are loved by some for their electric power and general quaintness, and hated by others because they break down and block roads. When trolley-lovers were in the ascendancy seven years ago, the 60 vehicles were upgraded for $27 million. But now the Greater Wellington Regional Council wants to remove the 160km of wires, saying they are costly to maintain and upgrade. Wellington Mayor Celia Wade-Brown says she can live with the plan, but her Green councillors are dead against it.
Art critics
Some people are grumbling that appointments to the new Arts Council smack of cronyism, after National MP Maggie Barry's partner Grant Kerr was given a place. This seems a bit hard on the lawyer, who was the co-founder and chairman of the Taranaki Arts Festival Trust. The critics have been quieter about the appointment of former Labour minister Luamanuvao Winnie Laban to the same council.
Well covered
An unnamed Silicon Valley billionaire has taken out the world's most valuable life insurance policy, for US$201 million ($235.5 million). The deal, which has been recognised by the Guinness Book of World Records, surpasses a US$100 million policy sold to Hollywood mogul David Geffen in 1990. And the premium? In "the low, single digits of millions of dollars", said the financial adviser who put the deal together.