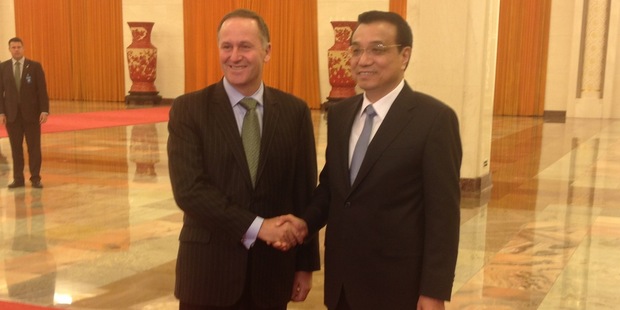 Prime Minister John Key's visit to China will include a formal dinner with China's President Xi Jinping, believed to be the first for a New Zealand leader since David Lange was Prime Minister.
Mr Key arrived in Beijing yesterday and met with its Premier Li Keqiang last night where he was expected to present the findings and action New Zealand had taken in the wake of Fonterra's false botulism scare.
"That will be to give them reassurance and confidence that not only do we take the issues seriously, but it's the responsibility we see of the New Zealand Government to have the right systems in place to ensure Chinese consumers are protected and have access to the best of products."
At the start of the meeting, Premier Li said they had now met several times and the meetings "will deepen our political mutual trust."
In return, Mr Key said they had come together at a time the relationship was going from strength to strength and areas of cooperation were growing considerably.
He also offered his "heartfelt thoughts" to the Chinese nationals whose family members were on the Malaysian MH370 flight.
Key also expected to discuss China's economy, saying Premier Li was "very economically motivated."
The dinner with the President tonight will be intimate, with about 20 people attending. It was a last minute addition to Mr Key's programme and will mean he misses a Fonterra function where he was to meet with the company's Chinese clients.
Mr Key said it was an honour and Fonterra and its clients were aware of the significance of it.
"My understanding is that the last time a New Zealand Prime Minister was hosted by a President of China for dinner was back with David Lange, about 25 or so years ago."
He said it would allow him to engage with President Xi in a more casual setting. He has met President Xi three times in the past year and come to know him fairly well.
He expected the talks to cover China's relationship with New Zealand, international issues such as Ukraine, and the missing Malaysia Airlines plane.
"We're not just selling China logs or dairy products, it is expanding in many areas. They are extremely significant from New Zealand's point of view."
Mr Key also went from the airport straight to a signing agreement between New Zealand plane manufacturer Pacific Aerospace and Beijing General Aviation. Beijing General Aviation is a subsidiary of Beijing Automotive Industry, which Mr Key said was worth one third of New Zealand's GDP.
The deal is expected to see Pacific Aerospace increase its manufacturing in Beijing from 15 to 500 planes within five years. It follows China opening up its aviation industry, including allowing people to own planes, such as private jets. An aviation park is also due to open, which Mr Key said would allow New Zealand to showcase its technology in China.