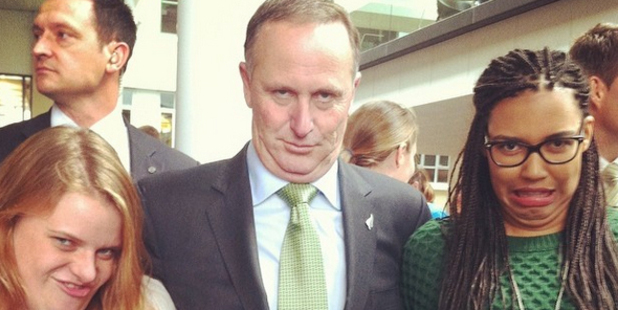 First there was planking, then Gangnam Style, now... derp-face.
Prime Minister John Key's latest attempt to win the youth vote included pulling the silly expression with students at Victoria University.
He was encouraged by students to make a "derp-face" - defined at KnowYourMeme.com as "an expression sometimes used online to signify stupidity".
Pictures of Mr Key clowning were shared on Twitter as he hosted the National Party stall at the university's Orientation Week this morning.
"Oh, you want a three way" -John Key, 2014 pic.twitter.com/9bjVeGh185

— Salient (@salientmagazine) March 4, 2014
Mr Key also re-created his infamous three-way handshake with the editors of student magazine Salient.
The magazine posted a picture on Twitter with the caption: "So, you want a three-way?"
The Prime Minister was widely mocked after awkwardly attempting to shake All Black captain Richie McCaw's hand at the Rugby World Cup final in 2011. McCaw was already shaking the hand of International Rugby Board chairman Bernard Lapasset.