Foreign Minister increases push for seat on Security Council by wooing 200 diplomats.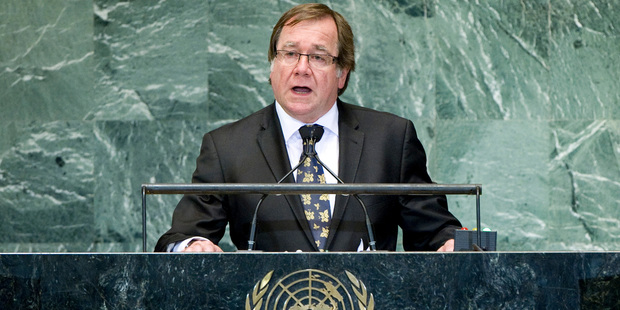 Foreign Minister Murray McCully leaves today to host a Waitangi Day function in New York for 200 diplomats where he will step up New Zealand's campaign for a seat on the Security Council.
Last night he hosted a reception for about 60 ambassadors to New Zealand at Waitangi itself which he also used to campaign.
"It's an important opportunity to signal that we are on the case early in the year," he said. "An important part of the Security Council campaign is to look active and to make it clear that we are working hard to earn a win."
He said the events gave him a chance to set out New Zealand's values and the key messages in support of the bid.
"One of the most important considerations for countries sorting out who they are going to vote for is to think they are going to have a fair-minded and constructive country so that if anything relating to their interests or their region comes on to the agenda, they can feel confident that countries on the council are approachable, ready to listen and are constructive in the way they respond."
It was particularly important in Africa because African issues dominated the Security Council agenda.
He said that through functions such as the Waitangi Day function, he wanted to make it clear that "New Zealand is not just a 'little England', that we are a country with a strong indigenous and Pasifika personality and we have our own way of arriving at conclusions on international issues".
Mr McCully will also attend the New York launch of the African Union Handbook, after attending the launch with African Union ministers last week in Addis Ababa, Ethiopia.
The launch was "an opportunity for me to rub shoulders with the leadership of AU and to make a speech at a gathering of 400 or so leaders of the AU".
Mr McCully said it was important to keep up the pace on the campaign for the Security Council.
Security council bid
•NZ's rivals are Spain and Turkey
•Vote will be held in mid-October
•The seat is for 2015 and 2016