Seyed Majid Tafreshi Khameneh talks to political editor Audrey Young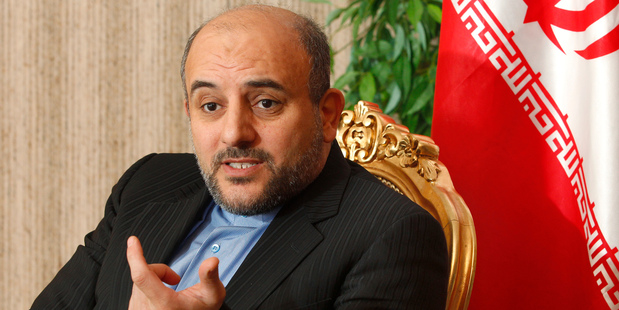 Where were you posted before you came to New Zealand three years ago? I was in New Zealand in 1993 to 1997 then after that, in 2003, I was in Helsinki. After that I was in Tehran for a few years before being appointed as ambassador to New Zealand. I had lots of interim missions to Europe, to Vietnam, to Geneva, to Japan, shorter visits and missions.
What is the most pressing issue facing Iran at the moment? Right now the negotiations between Iran and Five plus One (on Iran's nuclear power) is one of the key issues.
What are the most interesting bilateral issues between Iran and New Zealand? Any ambassador would like relations to be complete, economic, cultural, political, everything. We would like to increase (relations) in all three because there is no single issue between Iran and New Zealand that is an obstacle, nothing at all.
What are your goals for 2014? I started two years ago to create a parliamentary friendship group.
Quite a few MPs are ready to join but it is now on the table of the Speaker. This year we also hope to finalise with the Te Papa director a three-month exhibition in 2015 under the name of Glory of Persia.
How many New Zealanders visited Iran in 2013? They can go from all over the world but from New Zealand, a few hundred, but we would like to increase it.
Are you religious? Yes. Islam. I am Shia Muslim.
What is one of the more memorable visits you've had in New Zealand? Visiting Taupo, and Rotorua and Auckland, the aquarium on the waterfront. All New Zealand for me is beautiful. It's green. The people are happy so it's more beautiful. We do not come here to look at greenery. We come here more to shake hands, to share our benefits and values. This is the main reason I asked to be reappointed to New Zealand.
Is there something you would still like to do in New Zealand? I would like your Prime Minister, your Foreign Minister, your Trade Minister to visit Iran. It could be a very good market for New Zealand. I would like your Prime Minister to go to Iran and my President to come here. That is the aspiration for any ambassador. We need to learn more from each other, not just politics, but human values.
Is there anything personally you would like to do in New Zealand? I would like to find the time to go to Queenstown.
How many Iranians live in New Zealand? We think it is around 10,000, mainly located in Auckland.
What advice would you give to Kiwis visiting Iran? We have beautiful deserts, caves, falls, we have modern cities, rural areas and all of them could be beautiful and interesting for New Zealanders. Iran is safe.
What has been the highlight of your diplomatic career? Despite the sanctions affecting Iran, we kept the relationship almost as it was. But we could improve it much more. The way is open. We have a good market for all New Zealand products especially dairy, wool and your technology in farming and we have capable and talented students.
Is there some other place you would like to be posted? After each mission, you must go back to your capital for 1½ to two years. After that you can go again. But I will try to focus more on my academic work. If my wife and my ministry want me to go to another mission I will go.
What advice would you give to young people wanting to become a diplomat? Try to find another job and then if they really want to be a diplomat, try to think about justice-oriented policies. Try to think that humanity is not limited to borders.