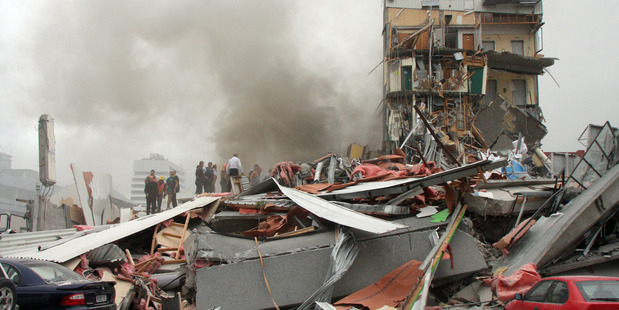 Legal advice might be needed before Building and Construction Minister Maurice Williamson can reveal a list of 14 potentially lethal buildings which owners are refusing to have assessed.
A spokesman said ministers could take legal advice from the Ministry of Business, Innovation and Employment or Crown Law.
At issue is the suppressed list of buildings potentially with flaws similar to Christchurch's CTV building and the Government is part-way through a national 342-building review. Only 14 buildings that fall into the potentially dangerous category haven't been assessed.
Williamson said 176 buildings with non-ductile columns were cleared, another 59 were excluded from the review but 14 building owners who had committed to an engineering assessment had not gone ahead and engaged an engineer.
"If this situation does not change in the next few months I will consider naming these buildings, which are all around the country.
It's time for these 14 building owners to step up and do the right thing, as the review is being done for reasons of public safety," he said. The 14 secret buildings are not in Auckland, Wellington or Christchurch but are understood to be in provincial centres such as Oamaru and Wanganui.
If landlords wouldn't act to have an engineering inspection, Williamson said, he would reveal those buildings but he cited legal advice in the process.
"Frankly, if they won't get them done, then the best way to do it is to make that list public which I will do, even getting legal advice about what rights I have got. But I can resort to naming them in the House under parliamentary privilege," Williamson told Radio New Zealand.
That would result in an horrendous situation, with tenants "running for the hills", he said.
Williamson said just because a building had non-ductile columns did not mean it was unsafe.
"If such buildings are balanced out by other design features they pose no greater danger than other buildings. The CTV building failed catastrophically due to many more issues than just non-ductile columns," he said.
Andrew Cleland, Institution of Professional Engineers chief executive, said no building would be able to withstand a huge earthquake so the issue was about managing risk.
"Someone at the end of the day has to pay the bills for this work," Cleland said.
Williamson has introduced the Building (Earthquake-prone Buildings) Amendment Bill into Parliament. That implements the Government's policy on the management of earthquake-prone buildings released in August.
As many as 25,000 earthquake-prone buildings will be identified within five years of legislation taking effect. Building owners will then have another 15 years to strengthen them or have them demolished.
But landlords with heritage buildings will get special leniency - extensions of up to 10 years will be allowed for category 1 heritage buildings and those on the proposed National Historic Landmarks List.
Exemptions will be available for buildings where the impact of failure is low, such as farm outbuildings. Houses will not be captured by the new law.
Connal Townsend, Property Council chief executive, said when the issue was last discussed in his organisation, the unanimous response was that it would be pretty hard to sympathise with a building owner who had promised to get an engineer's report and then had failed to comply.
Building review
• 342 buildings in government review.
• 176 have been cleared.
• 59 have been excluded.
• 14 buildings without engineering assessments.
• Auckland: 158 in review, 99 assessed/cleared, 59 remaining.
• Wellington: 37 buildings assessed and cleared, one vacated.
• Christchurch: 13 in scope, 12 demolished, lacked non-ductile columns or acquired for demolition. One cleared.
- Source: Maurice Williamson, Building and Construction Minister