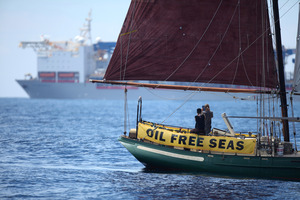 The Environmental Protection Agency is confident of defending their decision to allow off-shore oil drilling in the Taranaki basin, Prime Minister John Key said today.
Greenpeace filed papers in the High Court at Wellington today seeking a judicial review of the process the Environmental Protection Agency (EPA) followed in giving Anadarko permission for deep sea oil exploration.
Mr Key said today the independent agency made its own decisions, "but the advice that we have received is that they are confident that they have followed the right legal procedures and they're confident that they've done everything that is required of them".
"But in the end if Greenpeace don't believe that's correct, then they're free to go and test that in the courts."
He said Greenpeace's 'Banners on the Beach' campaign, opposing off-shore drilling, was "pretty underwhelming".
"I was actually surprised at how few people turned out," he said.
"At the end of the day Greenpeace is an organisation that raises a lot of money from New Zealanders and use that to fund their own activities. That's fair enough, but New Zealand last year earned just under a billion dollars from royalties and taxes from the oil and gas sector in New Zealand.
"We're capable of earning more, and I think we can do that in an environmentally sustainable way."
The Government was taking a responsible approach when it came to extending mining activities in New Zealand, Mr Key said.
The Greenpeace protest flotilla, which had been on the water for a week, was returning to shore today.
Anadarko confirmed it had started drilling an exploration well from the vessel Noble Bob Douglas off the Raglan coast.
The drilling, more than 1500 metres deep, commenced at 2.30am today, Anadarko New Zealand spokesman Alan Seay said.
"It's a process that's known in the industry as 'spudding' - it's the first step in the actual drilling protest - getting things set up on the sea floor and beginning the well."
It was estimated to take 70 days to drill down to Anadarko's target depth of 4600 metres, including a water depth of 1500 metres, he said.
Court papers allege the EPA made an error in law by failing to look at several key documents, including oil spill modelling reports and emergency plans to deal with an oil spill, before granting Anadarko permission to drill in the basin.
Lawyers for Greenpeace are asking for the matter to be allocated an urgent hearing date due to the national importance of the issue.
The judicial review would focus on Anadarko's current exploration of the Taranaki basin, Greenpeace chief policy adviser Nathan Argent said.
"But also, if successful, it could have an impact on any future drilling which could take place anywhere else."
Texas-based Anadarko plans to move the Noble Bob Douglas down to the Canterbury basin, off the Otago coast, to drill there early next year.
Mr Argent said all six boats in the flotilla would return to shore today, including the Vega, which had been within the Noble Bob Douglas's 500 metre exclusion zone for the last week.
Greenpeace executive director Bunny McDiarmid, who is returning aboard the Vega, said she would continue the campaign in the High Court.
"We've been here for over a week now, and we're heading home determined to carry on this campaign for a cleaner, more prosperous New Zealand.
"We're really happy to have had the support of thousands and thousands of Kiwis who don't want risky deep-sea drilling."
Green Party energy spokesman Gareth Hughes called on Anadarko to cease drilling until the legal issues around its permission to do so were decided.
He said the EPA had only seen summaries of Anadarko's oil spill modelling and emergency response plan.
Under transitional rules, the EPA had to consider the completeness of the environmental effects assessment, but not consider the actual environmental impact.
"That they couldn't even manage to do this is beyond belief. The process to give Anadarko the permission to drill has been an utter shambles and makes a mockery of the Government's claims of 'world class rules' protecting the New Zealand environment."
The Vega had not disrupted the drilling process, Mr Seay said.
"We've had to keep an extra eye out for them which we'd rather not have to do and whenever you've got somebody in close proximity in a safety zone, the safety risks are heightened, so we've had to take extra precautions to mitigate that."
Anadarko had not asked government authorities for any assistance to remove the protest vessels, however they had informed them of their presence, he said.
"We've notified the authorities, we did that last week, of the fact that the Vega's been inside that safety zone, but we're not seeking any particular intervention as such, that's always a call for them to make and so far they've seen fit to not actually go out there."
- APNZ