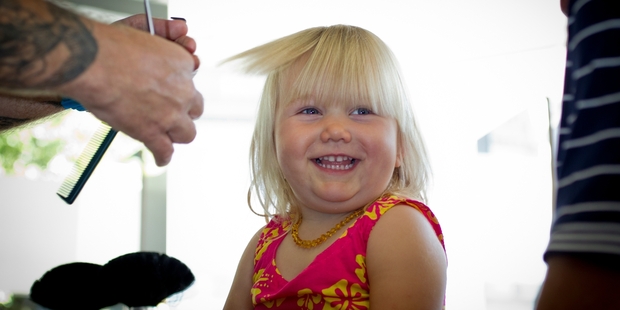 Sara Thomson's first trip to the hairdresser was for a good cause - the salon is donating its day's takings to the victims of the Philippines typhoon.
Sara, 2, was one of dozens of people at the Hair For Haiyan initiative, put on by Vada Hair Salon in downtown Auckland. By 5pm yesterday, it had raised almost $4000, which will go to Oxfam New Zealand to help the recovery effort.
Sitting on dad Steve's knee, it took a few tickles and silly faces to keep Sara still long enough to have her fringe trimmed.
Mr Thomson said his daughter usually had her hair trimmed by her mum or nana.
"We just thought it was a great thing to get behind. It's devastating what's happened in the Philippines and this is just one way to help," he said.
Typhoon Haiyan ripped through the region this month.
Authorities say the death toll could reach 10,000. Meanwhile, hundreds of thousands of people have been left homeless and in need of food, water, medical services and shelter.
The New Zealand Government has pledged up to $5 million to the Philippines to help with relief efforts.
Vada Hair floor manager Leonie Nicholls said the shop was usually closed on Monday and the staff had donated their time for the fundraiser.
"People have just been talking about what's been happening in the Philippines and we've seen the aftermath pictures and we just wanted to do something to help. So we thought, 'how about we give a service'?"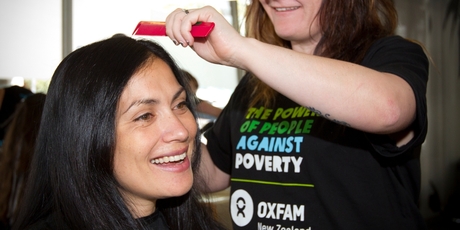 Singer-songwriter Anna Coddington also popped in to get a blow dry.
"The typhoon aftermath is just crazy," the Bird In Hand singer said.
"It's really devastating watching what's coming out of there."
Vada Hair will continue to accept donations for the Philippines throughout the week.