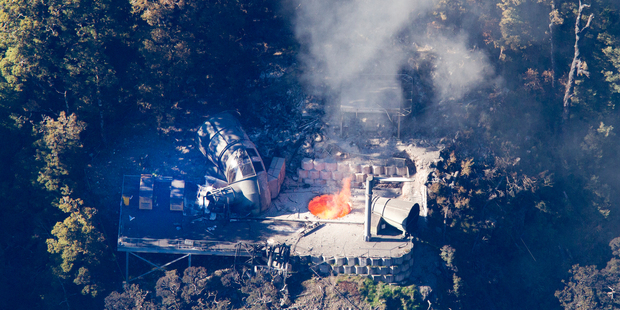 Finance Minister Bill English said families in New Zealand that experienced tragedies would expect equal treatment from the Government, not anything less than the families of the 29 men who died in the Pike River mining disaster three years ago.
He was responding to claims from Labour leader David Cunliffe that the Government had a moral obligation to compensate the families and that the Government was "giving up on the miners' families" for not having compensated them.
Mr English said that about $5 million had so far been paid by ACC to the families, on the same basis as any other family that suffers a workplace accident or death, and that the full support from ACC would amount to $20 million when paid.
"Every other family in New Zealand that experiences a tragedy, which may be less high-profile and less politicised by the Opposition, has a right to expect equal treatment to the Pike River families," Mr English said.
He said the Government's moral obligations had been met through statutory systems put in place to support the families.
The Government has fully supported these families through the statutory processes, it has committed millions of dollars to the recovery of the bodies, it has met its moral obligation to take all the steps recommended by the Royal Commission on the Pike River Coal Mine tragedy to ensure that these tragic events do not occur again.
"But finally the Government has to act on behalf of all New Zealanders. Every New Zealander who suffers a tragedy deserves equal treatment."
Under further questions from Mr Cunliffe, Mr English confirmed that fund managers at ACC and Superannuation Fund were shareholders of New Zealand Oil and Gas, a large shareholder of Pike River Coal, and had voted against paying compensation to the Pike River families.
"That motion, if carried, would have seen New Zealand Oil and Gas, a 29 per cent shareholder in Pike River Coal, pay out on behalf of the other 71 per cent."
Mr English said it would be unlawful to instruct the independent fund managers on investment decisions.
An order for $3.41 million in reparation to the victims' families and two survivors was made in July by Judge Jane Farish who convicted Pike River Coal on health and safety charges.
The company is now is in receivership.
New Zealand Oil and Gas has already paid $25 million since the disaster in for salaries, creditors and tunnel recovery. A resolution at its AGM in October to pay more was lost.
Mr Cunliffe said it was "disgraceful" that Government entities had voted against paying court-ordered compensation.
National was attempting to hide behind normal ACC entitlements and ignored the specific facts of the case which included the culpability of the mining regulator at the time, the Department of Labour.
The cabinet had limited its discussion to narrow legal precedent instead of the morality of paying compensation.