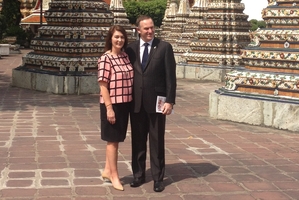 Prime Minister John Key has emerged from his meeting with Thailand's Prime Minister confident that he will manage to secure a solid commitment to phase out trade tariffs early.
Mr Key had his formal meeting with Thai Prime Minister Yingluck Shinawatra yesterday and the leaders agreed to start working on changes to a trade agreement between the two countries before the end of 2014. Currently the tariffs are due to phase out completely by 2020 but Mr Key is pushing for that to be brought forward.
"I'm pretty sure we'll make progress. We're looking at whether we can get there faster than seven years of slow and gradual reduction. I think the answer is yes from the impression we got today."
Mr Key said he was not overly concerned that political tensions in Thailand at present would derail that work. Even if a new election was called as a result of a decision by Thailand's constitutional court today, many believed Ms Yingluck would win because of the popularity of her party.
He said the two had not discussed the issue much, beyond noting the protests.
Mr Key said he had told Ms Shinawatra that reducing the tariffs on items such as foodstuffs was a win for both countries, because it would help Thailand feed its tourist market.
He said much of the food Thailand imported from New Zealand went on feeding the 24 million tourists- one of its biggest revenue earners.
"As I said to the Prime Minister, it's a win for New Zealand if we can sell more beef into this market, but it's also a win for Thailand if they can continue to offer a premium product to tourists."
He said Ms Yingluck was receptive to that and would review the tariff levels.
Mr Key said New Zealand sold 800 tonnes of beef into Thailand a year and once a certain threshold was reached, a 50 per cent tariff applied. He said New Zealand was currently hitting that threshold within two months - meaning the steep tariffs applied for the rest of the year.
The two countries would also consider whether to expand the agreement to include services.
Ms Yingluck would not take questions from media after the bilateral meeting, but gave a statement saying she was pleased with progress in the effort to double trade by 2020. She said she was also pleased with deepening links in areas such as education and tourism. "We want to expand our cooperation in eco tourism and medical tourism." The Thai government actively promotes medical tourism for procedures such as joint replacements, cosmetic surgery and dental surgery. Thai Air flies direct to New Zealand five days a week, making it a potential market.
She said in the eight months since she had visited New Zealand, she had seen Mr Key twice at international summits and was now hosting him, which reflected the closeness of the relationship.
Mr Key also met with Thailand's richest man, Dhanin Chearavanont, who is the head of food and agriculture giant, the CP Group and had encouraged him to visit New Zealand. He said the potential for investment in New Zealand companies was significant.