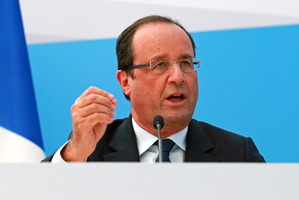 President's visit to Israel seen as opportunity to increase his - and France's - influence in the region

French President Francois Hollande arrives in Israel today on a visit aimed at reviving France's clout in the Middle East at a time when America's role in the hotspot region is seen as wavering.

The 48-hour trip marks the next step in Hollande's newly assertive Middle East policy, whose sharp tone contrasts starkly with his cautious, consensus-building approach on the domestic front.
This month, France played the role of tough scrutineer in talks in Geneva between Iran and the P5+1 group of powers over Teheran's nuclear programme.

French Foreign Minister Laurent Fabius blasted the proposed agreement as a "fool's deal". He demanded that Iran suspend activity at the Arak heavy water reactor and that Western powers not agree to Iran's "right to enrich" uranium.

The stance reaped gains in Israel, which says the Geneva talks are simply a ruse by Iran to gain time and build a bomb.
On Wednesday, a new round of negotiations is due to get underway.

"(Israeli) Prime Minister Benjamin Netanyahu has been very pleased by France's intransigence on the Iranian nuclear dossier and has already promised to roll the red carpet," Karim Bitar of the Institute for International and Strategic Relations in Paris told the Herald.

Prospects of a breakthrough in Geneva prompted Netanyahu to squabble publicly with US Secretary of State John Kerry - a rare, visible bustup between the two allies. When it comes to an issue that Israel deems vital to its interest, it is usually the United States which plays the role of bad cop in support of its ally.

Analysts point out that France has diverged from the United States for years over policy in the Middle East. It has shown the greatest support for the Palestinian cause of any European power and infuriated George W Bush by refusing to follow the Americans and Britain into the Iraq War.

But, they say, the divergence seems to be growing, marked particularly by French concern at American competence.

"Particularly since 2007 when the temperamentally aggressive Nicolas Sarkozy took office as president (and two years before Obama did), the French have consistently warned of potential Iranian perfidy and worried about American naiveté," notes former State Department advisor Jeremy Shapiro.

"They, for example, fiercely criticised the 2007 US National Intelligence Estimate on Iran that declared that Iran was not seeking a nuclear weapon."

"Hollande has continued this policy as he has sought to establish his own bona fides in promoting a strong French foreign policy."

The marked change in mood can be dated to August, when France lined up with the United States to attack Syria over its use of chemical weapons, with Britain - whose parliament had voted against the strike - finding itself on the sidelines.

To French anger and astonishment, the strike was called off at the last minute, when Obama agreed to a deal, brokered by Russian Foreign Minister Sergei Lavrov, to scrap the arms.

"France felt left out after the Kerry-Lavrov deal. The Saudis are also very frustrated with US policies and are increasingly cooperating with France and Jordan to support the Syrian rebels," notes Bitar.

In his new part as move and shaker in the Middle East, Hollande is likely to get a good boost from Netanyahu on Iran, but the message will be less clear on Syria and the peace process between Israel and the Palestinians will be marked off as American terrain.

"Israel will keep telling the French president that Iran is an existential threat and, in the way the Israeli leadership sees the world, Iran is an existential threat," Yossi Mekelberg, an analyst at the Chatham House thinktank in London, told the Herald.

"They would like to hammer home that, at the end of the day, no lifting of sanctions should take place before there is real and verified progress."

Hollande's visit to Israel also coincides with renewed optimism for a possible agreement on a peace conference on Syria's civil war.

"Israel has mixed feelings regarding the Syrian revolution, it's a Catch-22. There is no love lost for Assad and Israel would welcome a weakening of the Iranian axis in the Middle East. However, a fall of Assad might also entail negative consequences for Israel," warned Bitar.