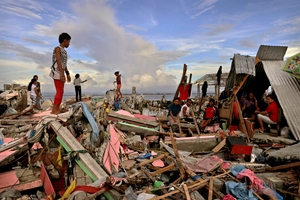 Our Parliament has a practice of coming together in times of great tragedy to express the nation's prayers, thoughts and best wishes. The convention is that political debate is set aside out of respect and to solemnise the occasion.
Such an occasion occurred last Tuesday when Parliament declared support for the people of the Philippines, solidarity with those waiting for news about friends and family, and condolences to those who had lost loved ones.
The Prime Minister spoke first. Then the Leader of the Labour Party. They were short speeches and dignified, as the occasion warranted. And then Green co-leader Dr Russel Norman spoke.
Out poured a diatribe of how Typhoon Haiyan has reminded us we haven't done enough to combat climate change. We can't afford to procrastinate: we must deal with the "climate crisis madness". Vote Green was his message. And cut greenhouse gases.
He tried to excuse the speech by quoting the head of the Philippines delegation at the UN Climate Change talks in Warsaw. But it made me queasy that a political leader was making political points at a solemn time set aside to honour and to respect the thousands killed and a country that is reeling.
It struck me that it takes a special kind of political coldness to do that. Norman demonstrated an extraordinary heartlessness and an unappealing drive to push his own political barrow, no matter the circumstance.
There's much we don't know about climate. But one thing we do know with certainty is that global warming was not the cause of Typhoon Haiyan. The world hasn't warmed for 16 years. It's not possible for a zero change to cause Typhoon Haiyan. That's a simple matter of logic.
And then we have experience. Typhoons are a big deal. They are recorded. There has been no change to the number of typhoons making landfall in the Philippines over the past 100 years. The numbers vary year to year but the variation is around a mean trend of zero slope.
If evil greenhouse gases were to blame there would be a rising frequency of typhoons to match the rise in greenhouse gas emissions over the past 100 years. But there has been no change in typhoon numbers.
There is no correlation between greenhouse gas emissions and typhoon frequency, let alone causation.
The Green's Bible put out by the United Nations, the Intergovernmental Panel on Climate Change's Fifth Assessment, also makes a nonsense of Norman's claim. It declares, "Current datasets indicate no significant observed trends in global tropical cyclone frequency over the past century".
Norman was both rude and wrong.
Debate on this article is now closed.