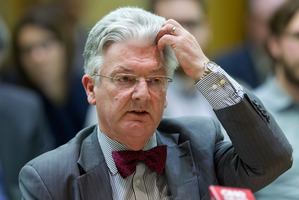 The Parliamentary committee investigating the unauthorised release of a journalist's phone and swipe card access details to an inquiry into the leak of a report on spy agency the GCSB is expected to issue its report in about two weeks.
The privileges committee has been investigating the release of reporter Andrea Vance's records to the Henry inquiry whose findings resulted in the resignation of Revenue Minister Peter Dunne.
The first part of the two stage inquiry is to establish the facts around how Ms Vance phone and swipe card details and Mr Dunne's email records were released to the inquiry by Parliamentary Service.
Parliamentary Service boss Geoff Thorn resigned over the matter three months ago.
Committee chairman and Attorney-General Chris Finlayson this morning confirmed a report on those events should be released within a fortnight.
His comments followed a hearing in which Parliament's Clerk of the House Mary Harris and Privacy Commissioner Marie Shroff offered their views on how new rules about how data about MPs and other people who work in Parliament should be handled in future inquiries.
Ms Shroff recommended using the principles of the Privacy Act as guidelines for the new rules, which are the focus of the second stage of the committee's work.
Both Ms Shroff and Law Commission's Sir Grant Hammond who appeared before the committee yesterday raised concerns about enshrining prescriptive rules in legislation, saying that would affect Parliament's ability to control its own destiny and allow courts to make key decisions about parliamentary matters.