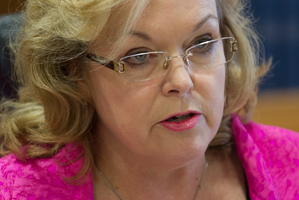 Justice Minister Judith Collins says she believes China is serious about clamping down on corruption under its new leadership after she was invited by the Chinese Government to speak to ministers and officials about New Zealand's anti-corruption measures.
China's new President Xi Jinping and new Premier Li Keqiang have pledged to fight corruption and increase transparency in Communist China, saying it was increasingly being expected by the Chinese people.
Ms Collins was invited to travel to China because of New Zealand's strong record in low levels of corruption.
New Zealand has topped Transparency International's Corruption Index for seven years in a row, and Ms Collins said there was interest in China in learning about its systems to detect and deal with corruption, such as bribery of Government officials.
"Very genuinely, President Xi Jinping has said they're going to achieve greater transparency and deal with corruption. I think they really are serious about this and they're looking at which countries do it best. And we do."
She met with China's Justice Minister Wu Aiying and Meng Jianzhu, a member of the China Communist Party's powerful politburo, and spoke at the China Executive Leadership Academy, which was attended by senior Government leaders and business executives.
She said she covered everything from ensuring officials were paid enough to live on to reduce the temptation of bribes and whistle blower legislation to requirements on banks to know their customer's usual banking so alerts were raised if there were unusual transactions - helping detect money laundering.
Ms Collins had also raised the importance of an independent judiciary, a free media, and independent Police Force, as well as measures to investigate and hold officials to account, such as the Independent Police Conduct Authority. She also invited Ms Wu to visit New Zealand. A team of China's justice officials will visit in November to learn more.
However, New Zealand does not have a totally perfect system to deal with corruption - a recent OECD report said New Zealand had to significantly increase its efforts to address foreign bribery and it was yet to ratify the UN Convention Against Corruption.
Ms Collins said that it did take foreign bribery seriously because of the need to protect New Zealand's business interests. She said further improvements were on the way and some would be included in the Organised Crime and Anti-Corruption Legislation Bill which she is due to introduce in Parliament later this year. The same bill would also include the provisions New Zealand must implement before it can ratify the UN Convention Against Corruption.
Ms Collins also visited Singapore on her return journey from China, where she looked at its electronic court system - a system she is working to introduce in New Zealand.