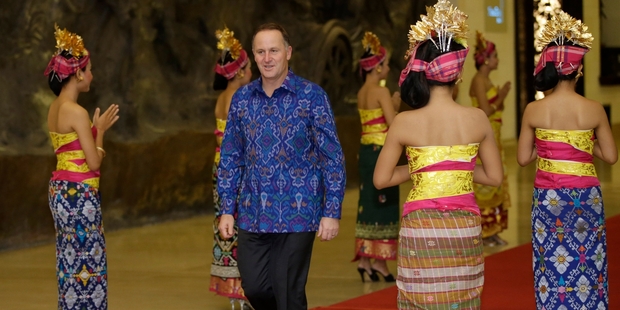 After falling out of favour during the global economic turmoil, Apec's propensity for dressing up its leaders in "silly shirts" returned with gusto as Indonesia's guitar-strumming President led a parade of Balinese design.
US President Barack Obama was a notable absentee, perhaps relieved that a budget shutdown kept him home after he axed the annual fashion show when he chaired the Asia-Pacific Economic Co-operation summit in Hawaii two years ago.
Secretary of State John Kerry was there instead, sporting a purple shirt made of a silk-like Balinese fabric called "endek".
While the fabric was woven in Indonesia, it came from China, a win-win outcome given Apec's stated goal of tearing down trade barriers.
The shirts and blouses were on display as the heads of government trooped in to greet Indonesian President Susilo Bambang Yudhoyono at the start of a summit dinner.
The Indonesian leader had already leavened the mood earlier, bringing out his guitar when he learned it was Vladimir Putin's 61st birthday.
Cheered on by Chinese President Xi Jinping, he strummed Happy Birthday as Russia's leader smiled broadly.
- AAP