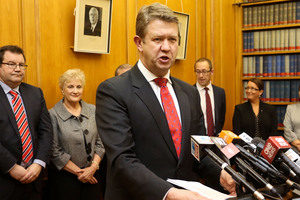 Hey, gidday there. I've had a few weeks' break from writing this column because I've been occupied with some other domestic activities of great magnitude - papier mache puppets don't stick themselves together, you know. Outside the craft corner, I've also been trying to make peace with the urge for social dominance.You?
Actually, it's the irksome suburb of Herne Bay that got me thinking about our drive for status, and trying to reconcile myself to it. For some reason it really vexed me that Labour leader David Cunliffe lives in Herne Bay, New Zealand's most expensive suburb, where he boasts he sends his children to a state school.
Bully for you, swanky dude. I tried to construct some argument about why it was disgracefully hypocritical of Cunliffe to live next to cafes that sell $20 chicken and walnut sandwiches while supposedly trying to make New Zealand more egalitarian, but that seemed to be a bit of a clapped-out position.
Would Labour's policies have more credibility if he lived on a crummy street?
Oh, I suppose I could work up a lukewarm froth of indignation that Cunliffe doesn't live in his electorate of New Lynn, but that wasn't really the point. When I was honest with myself, I had to admit that maybe the problem was with me, not him. I'm afraid I have an unhealthy neurosis about Herne Bay. But why?
Obviously, people who live in Herne Bay, where the average house costs $2 million, are at the tippity-top hoity-toity end of the social status and property ladder. But again, so what? I didn't think I was that materialistic; I thought I gave people more kudos for quoting Chesterbelloc or knowing what dark matter is than whether they drive a European car.
But even so, it seems the idea of other people being social climbers - Hernebayitis - makes me feel threatened. I need to get over this boring idea. I thought if I understood how we are all wired to win that might help. Team New Zealand, Lorde, all the contestants in New Zealand's Got Talent, all of us want to be winners.
When you feel "on top" serotonin is released in your brain and that feels good. As evolutionary psychologists will explain, serotonin feels calming because being "on top" brings security in the state of nature. In polite society it is forbidden to acknowledge that social dominance feels good. But everyone has a brain that longs for the good feeling of serotonin. And everyone can see this motivation in others.
You might find it annoying when you see others trying to secure their social position - perhaps why I can't stand people who go on about their expensive brushed aluminium German kitchen appliances - but when you try to secure your own position you think, "I'm just trying to survive".
These useful insights come from mammalian specialist Loretta Graziano Breuning, who explains we can't fight our natural desire to win, but there are healthy and unhealthy ways to do it. Unhealthy: gambling, physical violence, theft and meanness to people who are weaker than you. Healthy: finding your own mini "competitions" that give you a kick of happy hormones. (At the moment my projects include teaching myself chess on the computer, being a beginner at yoga and making ugly craft things.)
People with high social dominance fill the news and for the rest of us that can be disquieting as our cortex registers we are not included in this clique. So each of us has to make peace with the urge for social dominance. (Not everyone can be Lorde.)
If you hate the urge for social dominance you will hate yourself and everyone else. This is possibly why an individual's success can provoke such unnecessary spitefulness.
We're not on the savannah now, people. Instead of hating others for winning, the best thing to do is just appreciate your freedom to decide where to invest your energy.
As Graziano Breuning says: "You may think you're too nice a person to care about winning. But if you find yourself hating those you perceive to be winning, go out and look at the stars and pick yours. You too will shine." Or just mix up a batch of papier mache.