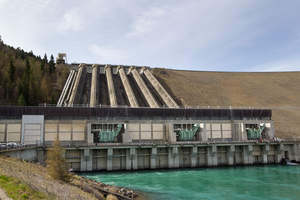 Close to half of the Meridian share offer has been claimed by New Zealand retail investors ahead of the offer opening tomorrow.
Finance Minister Bill English and State-Owned Enterprises Minister Tony Ryall said that showed the share offer was off to a strong start.
New Zealand share brokers were invited to submit bids for shares last week based on interest from their clients, as part of a new process being run for the Meridian share offer.
"New Zealand share brokers have already committed to buy 565 million shares at a first instalment price of $1 each to satisfy strong interest from their clients, Mr English said.
"This represents 45 per cent of the offer in total, and an investment of up to $900 million when the second instalment is included.''
The Government was committed to achieving 85-90 per cent New Zealand ownership of Meridian shares, he said.
"For the Mighty River Power share offer, a total of 55 per cent of the offer was allocated to retail clients at the end of the offer. The broker allocation for the Meridian offer puts us well on the way to achieving a similar or better outcome.''
As part of the Government's share offer programme, up to 49 per cent of the company would be sold, with the Government retaining a majority 51 per cent share.
Mr Ryall said there were three ways to apply for shares; apply online at www.meridianshares.govt.nz, order an offer document by calling 0800 90 30 90 and completing a paper application form, or apply through a New Zealand share broker.
"We have always said that New Zealanders will be front of the queue for shares in our share offer programme, so this means there are eligibility requirements,'' Mr Ryall said.
Buyers would need to provide their IRD number, a New Zealand bank account, a New Zealand address and a declaration they were a New Zealand citizen or permanent resident.
- APNZ