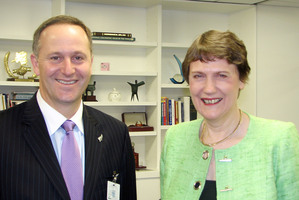 When dawdling along a New York footpath looking for a building, an exasperated American voice came from behind with a bit of travel advice for visitors to the Big Apple: "If you walk that slowly in New York, you'll get killed."
What applies on New York's footpaths also applies in the tiny booths in the United Nations building where the countries' leaders meet for bilateral meetings.
Mr Key has described it as "speed dating" to try to get to his destination: the 129 votes needed to get on the Security Council in 2015. His agenda is so full even he lost track, saying at one point he was to meet Israel's Prime Minister Benjamin Netanyahu. Netanyahu doesn't even arrive until after Key has left.
There have been a few other speed wobbles - meetings with Benin and Togo fell through altogether and Mr Key had to choose between a meeting with Malta's Prime Minister Joseph Muscat or a date with the television to watch the final race in the America's Cup.
It was a dilemma - risk offending a European country of about 450,000 people, or risk offending a South Pacific nation where many already wondered why he had chosen Queen over country to visit Balmoral instead of San Francisco.
But while Mr Key spent most of his time trying to make new friends at the UN this week, there was also time for the old. One of those was former Prime Minister Helen Clark, on whom Mr Key called for a formal meeting in her capacity as the head of the UN Development Programme.
Although the pair were rivals in the 2008 election, they seem to have developed a constructive, even warm, relationship since then.
They greeted each other warmly, Mr Key complimenting Helen Clark on her striking magenta and cream jacket, and observing Adrienne Winkelmann would be pleased to have his predecessor showcasing her fashion in New York. They also later stood together for a press conference, and ended their formal meeting with a more private chat.
But the newfound rapport did have its limits. When she was asked how she thought his foreign relations credentials were going, she stuck to saying he was working hard on the Security Council bid.
Helen Clark has to play the part of the neutral public servant these days, but described it as a "David and Goliath" battle, adding that David has been shown to win in other contests.
Mr Key was wise to any wiliness, given Labour's current leader is David Cunliffe and a favourite of Helen Clark. He later quipped that he was not too keen on that analogy: "It isn't always good when David wins. Sometimes Goliath is better."
Mr Key also attended a Clinton Foundation reception last night, where he hoped to catch up with former US Secretary of State Hillary Clinton, whom he had spent some time with at the Pacific Islands Forum in the Cook Islands last year. Former Australian Prime Minister Julia Gillard had also been in touch.