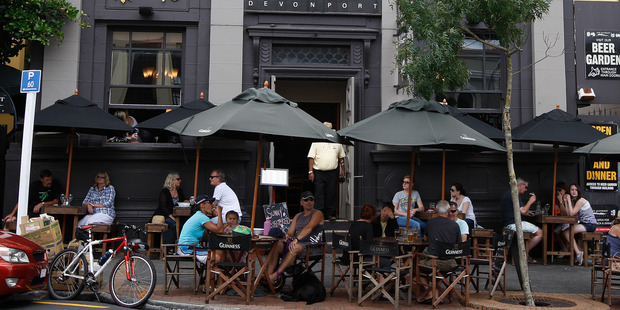 Nothing much good comes in the hour between 3am and 4am on the streets of central Auckland. Police, street cleaners and taxi drivers aside, most people there are either up too late or too early to do themselves or others any real good. The so-called Golden Mile of Queen St is no advertisement for early-hours socialising and the entertainment precincts of Britomart, the Viaduct and Karangahape Rd can also fail to distinguish themselves at this time.
Early in his tenure, Auckland Mayor Len Brown made much of his determination to clean up the early morning behaviour and detritus, touring with police and announcing a taskforce to return the city centre to civilised norms. Not much has happened but a community forum has lately recommended modest changes to licensing hours and conditions in the city, aiming to cut the booze-swilling culture.
The forum proposed closing CBD and inner area bars - where up to 250 outlets hold 24-hour licences - at 3am with a one-way door policy from 2am.
In the suburbs, licences would end each morning at 1 o'clock. The one-way door has proved effective in other countries as a way of limiting early morning bingeing and the resulting disorder.
Auckland Council officials have a different view, however, and have countered the community forum thinking with a recommendation for licences until 4am and free-range drinking up to that time.
The officials claim there is insufficient evidence of the one hour exit-only policy limiting bad behaviour on city streets.
Unsurprisingly, the police have firmly backed the community forum view, worried that leaving bars open to allcomers until 4am in the central city would lead to suburban bar patrons leaving those facilities and driving into town for hours of more drinking.
Such "migratory drinking" is of such concern police have proposed to Auckland councillors that city bars have an even earlier time for one-way door rules, starting at 1am before the 3am closure.
"It will reduce the number of victims, the number of arrests, the number of people who get criminalised through drinking too much," says Inspector Gary Davey, the police crime prevention manager. Auckland's medical officer of health, Dr Denise Barnfather, noted numerous studies "show that increasing or decreasing hours in turn increases or decreases harm".
So it comes down to choices on the witching hours for entry to bars and closure of bars. In each case, one hour is at stake.
Auckland councillors will ultimately need to decide but not until after the local body elections next month. A new council will seek community feedback on a set of draft proposals and then need to weigh up the frontline view of the police and medical experts against a desire to satisfy the hospitality sector and whatever tourism "liveability" it serves.
The city needs nightlife and crowds to create colour and atmosphere and to provide choice. Dark and empty CBD streets in other places can be insecure and threatening in themselves. Yet no one who finds themselves in bars, or just passing through, between 3 and 4am would likely consider the level of inebriation and menace to be socially acceptable. Or sustainable.
Mr Brown was right to identify the CBD's night problems as a priority. Candidates for the next council have a chance to improve one strand of Auckland's liveability without much cost or imposition on the rights of residents or visitors. They should endorse the community forum's view both on closing time and the one-way door policy. Much relief is at stake for police, hospitals and those using the city for other reasons. A 4am swill should not be contemplated.