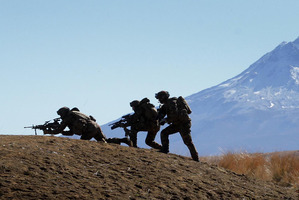 Poor leadership and a "risk-tolerant culture" has been uncovered at the New Zealand Defence Force by an independent probe that has today made 20 urgent recommendations to overhaul its lax health and safety policies.
The expert review panel was commissioned after 15 Defence Force personnel were killed in non-combat situations over the last decade.
"A lot of bad things happen to people in this country," said the panel's report.
The Defence Force was criticised by a district court judge last month for health and safety failings after Private Michael Ross, 29, drowned during an army training exercise on Lake Moawhango, near Waiouru a year ago.
"The review panel's view is that the 20 recommendations contained in this report should be implemented as a package and expeditiously," the report said.
"The issues here are serious and the NZDF must find the resources that it requires to enable it to successfully advance the recommendations."
It urged that the changes be made to address poor data and measurement, inadequate leadership, confusing regulation, and a risk-tolerant culture.
The 15 non-combat deaths in 10 years is comparable with the Australian Defence Force, as well as police and the Fire Service, but higher than in the UK Armed Forces, the review team found.
The findings have been "widely embraced" by the Defence Force.
Vice Chief of Defence Force, Major General Tim Keating, said it was vital that all recommendations were rolled out across the organisation.
"The NZ Defence Force is a large and complex military organisation engaged in many high risk activities, therefore it is imperative that health and safety is a priority for us all."
He accepted there was "certainly room for improvement" and expected the entire organisation to "embrace the findings and strive for excellence" when it comes to health and safety.
The panel consisted of three independent experts - former ACC chief executive Garry Wilson, former Chief of the Royal New Zealand Navy, Rear Admiral (Retired) David Ledson and Commodore Guy Robinson of the Royal Navy, who has extensive international experience in safety management.
While the report said health and safety systems around high-risk, core military exercises like live firing were robust, improvement was needed when carrying out more mundane activities.
Just 16 per cent of injuries occur during military training with the majority of injuries occurring playing sport or undertaking formal physical and personal training, the report found.
It challenged a long-standing culture within the Defence Force where attitudes in training do not put enough emphasis on health and safety risks - an approach that Major General Keating said will no longer be tolerated.
One of the panel's key findings was the need for a clear health and safety direction, and Major General Keating has already assumed responsibility for leading and driving health and safety change within the organisation.
The recommendations are expected to be addressed over the next 12 months before being independently assessed next August.
Defence Minister Jonathan Coleman had asked the Defence Force to commission an external review to address questions raised around the culture of health and safety.
"I expect health and safety to be a top priority for the NZDF. It is crucial our people operate in an environment where the proper safety procedures are followed," he said.
"Avoidable deaths are not acceptable."
- APNZ