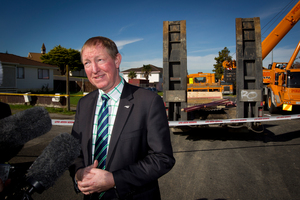 Auckland's first special housing areas earmarked for fast-tracked residential developments could be announced this month, with construction of new homes getting under way during the 2014 election year, Housing Minister Nick Smith says.
Auckland Council yesterday signed off on its "Housing Accord" with the Government which is touted as a significant balm to the Super City's housing shortage and overheated property prices by enabling the construction of 39,000 new homes over three years.
The deal was approved unanimously during a meeting where the council also notified its proposed Unitary Plan for the city. Notification is necessary to provide a simplified consenting process for the new homes in special housing areas.
"It's a very, very historic day for Auckland," Mayor Len Brown said.
Dr Smith said the next step was to work with the council to identify the first batch of special housing areas.
"My ambition is to try and have sufficient special housing areas approved by Christmas for at least 5000 additional homes."
Mr Brown said the council was already issuing consents for new homes at a faster rate than a year ago.
"We've got some real pace around the housing build and I'm very confident we'll be able to achieve the first year's target and the following year's target ... but we really hope the special housing areas will provide a real impetus to the market."
The council had received 70 to 80 applications or expressions of interest from developers for fast-tracked consents.
However, while the council wanted to announce the first special housing areas this month, "obviously we are going now into election mode and it's important for us not to overly tax the councillors".
Dr Smith said the consenting process for homes in special housing areas would take six months at most. Infrastructure works would take no longer than a further six months, with construction beginning after that.
The unitary plan identifies the need for 400,000 new homes to keep up with population growth in the city over the next 30 years. Dr Smith said the Government's deal with the council would enable the "least contentious 39,000" of those houses to be built over the next three years.