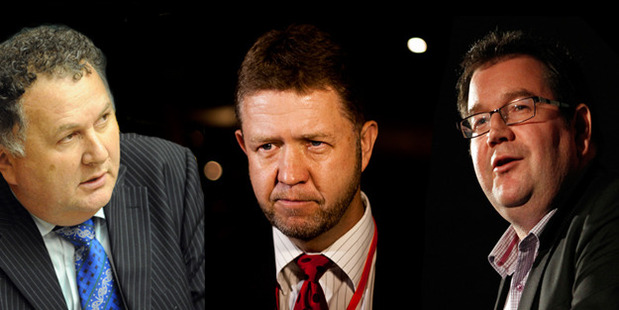 Labour's leadership hopefuls have responded to their critics and laid bare their shortcomings, with Shane Jones joking his weaknesses were "fairly public".
The quip - an apparent reference to Mr Jones charging pornographic movies to his ministerial credit card in 2008 - came in a debate with leadership contenders David Cunliffe and Grant Robertson on TVNZ's Q+A this morning.
The would-be Labour leaders were asked to name their strengths and weaknesses, with Mr Jones describing his communication skills as his strength.
"I've got a very good education but more to the point, I've got the common touch - and I would say, a rather unusual feature in the Labour party since Helen Clark's time.
"Weakness? Well, unfortunately for me they're fairly public."
Mr Cunliffe also said communication was his strength.
"Hopefully on a good day I can really inspire people, and I can communicate emotion to our voters that will get them out to vote next year."
His weakness was that he sometimes moved "a bit fast".
"If you're going to take initiative in a race, occasionally you've got to stop, pause, listen to those around you - and I'm going to be determined to be listening to my colleagues."
Mr Robertson also rated communication as his strength, saying he could communicate "clearly and directly" with New Zealanders. He did not name a weakness.
All three hopefuls responded to criticisms which have been levelled against them.
Mr Cunliffe denied there were members of the Labour caucus who could not work with him, saying he did not think that was the case.
"I think it's really important to say I've taken a lot of learnings out of the last year or two, and I think all my colleagues would say that I have been listening and been absolutely collective and supportive of our leader and our caucus over the last year."
Mr Robertson, who has been criticised as being too focussed on Wellington, said he could connect with the wider public by addressing the issues that mattered to them - including jobs, education and opportunities in their communities.
"If we talk to people about the issues that matter to them, they'll see that Labour has the vision and the policies to make it work. And I can do that."
He said he had travelled around New Zealand and had grown up in Dunedin.
Mr Jones responded to the implication that, by pitching his message at voters who had abandoned Labour, he was shafting Labour's urban liberal voters.
"I'm from Kaitaia. Not many cafes in Kaitaia, lots of voters.
"The reality is that, of the 3.2 million Kiwis with the right to vote in our country, we could only get 18 per cent of them to come out and vote at the last election for Labour. So I think it's totally legitimate to run the sort of line that I'm running."
The debate on Q+A this morning came after the MPs held the first of 12 planned public meetings around the country. Yesterday's meeting in Levin will be followed by a meeting in south Auckland today.
- APNZ