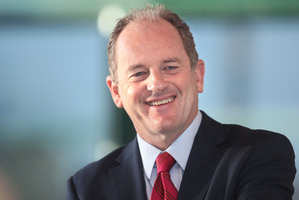 Labour Party members have reacted with surprise at leader David Shearer's decision to step down, but fellow MPs described him as a "nice guy" whose time was up.
The party took some consolation from the fact that Mr Shearer went quietly and was not ousted in a bloody coup.
Deputy leader Grant Robertson said he had only found out about his decision mid-morning - a few hours before Mr Shearer called a press conference to announce his plans.
Former Labour candidate Josie Pagani said she was surprised and saddened that Mr Shearer had not lived up to his promising potential.
"He came in on such a ticket of change and a feeling that this was a new beginning after a pretty dismal electoral defeat. And we had a lot of hope about that. And it's just been a sort of slow decline of really believing that could be delivered."
She felt that to change a party, a leader had to be prepared to offend some people, and Mr Shearer had not taken clear-cut stances on policy he disagreed with fearing it would be unpopular with some members.
Labour electorate chair for New Lynn Greg Presland said the resignation came out of the blue because he felt Mr Shearer was improving.
He emphasised that the Labour leader was up against a formidable opponent in Prime Minister John Key.
Mr Presland predicted that a leadership battle would re-energise Labour, in a similar way to the leadership change in the Australian Labour Party last month.
MPs also expressed surprise at the suddenness of the resignation.
Maori Party co-leader Te Ururoa Flavell said he was shocked by Mr Shearer's decision but added that it was probably inevitable. "I just feel sorry for the guy. Bearing in mind that most people that come in here come with the very best intentions and he obviously came back in the belief he could give something to the Labour Party and to Parliament. He did his best, and that's all you can ever ask for a person in here."
The Mana Party's Hone Harawira said he always found Mr Shearer to be "very, very friendly and very open".
"I think that was probably his downfall. Nice guys don't last long in this game."