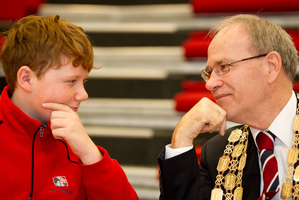 Bumpy footpaths, traffic jams and shabby buses were some of the issues raised by school pupils with Auckland Mayor Len Brown yesterday.
The mayor joined pupils at Balmoral School for a Q&A session as part of the launch of the Tick for Kids campaign.
The initiative is a partnership between the NZ Educational Institute, Every Child Counts and the Medical Association and calls for local government and the district health board to sign up to a programme of child-friendly policies. Voters are encouraged to use the campaign as a guide to who is committed to the needs of children and young people.
In an address to Balmoral School, the mayor said there should be no one on Auckland's local boards or council who did not support the kids.
"I want you to be an everyday part of our lives," said Mr Brown.
Students at the launch were advised by Unicef executive director Dennis McKinlay to encourage their parents to vote for those candidates who dealt with youth issues.
Pupils were given the opportunity to raise concerns on local issues with the mayor after the official launch.
Seamus Stalker, 12, said some footpaths made scootering unsafe in his neighbourhood.
"They are quite uneven, so going along really quickly, it's really, really bumpy."
Seamus said he worried about the city's elderly folk on the footpaths in his neighbourhood because even he had to move slowly on them.
"One day you'll be Mayor of Auckland," said Mr Brown.
The Balmoral pupil said the Tick for Kids campaign was a "great idea" because "planning for the future is really important".
Allie Hawksworth, 13, said a new tree needed to be planted on One Tree Hill summit.
Mr Brown said he, too, missed the old tree and was quietly confident it would be replaced.
"When we do plant that tree up there, it will be a pohutukawa."
Kane Hill, 13, said his family were often late for his brother's rugby games because of traffic woes. "We can be quite late because it's quite congested on the roads."
Greer Mclean, 11, found the local buses to be "not that nice to sit in".
The mayor said he would make a note of the issue but encouraged students to go up to bus drivers and make them aware of any buses that were "looking a bit shabby".
Acting principal Mary Rea said it was vital kids questioned what was going on around them.
Read Tick for Kids agenda at
www.everychildcounts.org.nz