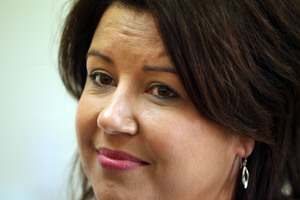 Social Development Minister Paula Bennett often stands accused of taking a hard line on matters within her purview. Labour likes it that way, because it gives them room to attack. And National likes it that way because the punters out there who think beneficiaries get too easy a time of it generally applaud any clampdown on "bludgers".
In reality, often that "hard line" isn't all that hard but Bennett has proven a skilled tactician in making such policies look hard line at first blush, while simultaneously leaving plenty of wriggle room to blunt attacks from those who bother to delve beyond the headlines and into the body of the policies.
Unlike her welfare reforms, the reaction from other parties was cautious. Labour's Annette King issued a statement saying Labour believed by and large the measures outlined were worthwhile with some caveats. King refrained from rejecting even the most "hard line" of those proposals - those to more easily remove children from known child abusers, and a new Child Harm Protection Order to prevent people considered a risk to children from living, working or associating with children even if they are not convicted or had already served a full sentence for an offence.
Even Bennett has conceded that the second change is a potential can of worms when it comes to human rights issues. It bucks against core justice principles against double jeopardy - being punished twice for the same crime - and for someone to be proven guilty beyond all reasonable doubt to be punished.
King raised concerns that such orders could be "potentially heavy-handed" and said Labour would need reassurances that they would be effective and not misused. Criticising National's so-called hard line on welfare is one thing for Labour. But no party which hopes to attract middle New Zealand can afford to be perceived as taking a soft line on child abuse. Even the Green Party was slightly hamstrung by this, so rather than criticise the proposals, it instead accused Bennett for ignoring another factor in child abuse in her reforms: that of child poverty.
It is therefore understandable Labour opted for constructive engagement and cautious support while leaving room to back away in the future.
Unfortunately, some of the caucus missed the memo. Clare Curran's first response was to say the announcement made it clear the National Party was in trouble and "rolling out Paula Bennett to divert us all with another punitive social engineering measure". By now word has probably reached her that she may well be voting for those same measures.
To be fair, it is almost a Pavlov's dog response to announcements by Bennett. So often, Bennett has flung up a policy or floated a controversial idea that has uncannily coincided with trouble for National in another quarter. So now it is almost compulsory for political onlookers to put up the periscopes to see what else is happening that Bennett might be a decoy for. In some of those cases, Bennett can justly be accused of being all sideshow and no top tent. There was the rather pie in the sky proposal of banning child abusers from having any children, which came to nothing.
But this week's announcement is not one of those cases. Bennett was at pains to emphasise the least attention-grabbing change proposal - that which would give the chief executives of five Government departments legislative responsibility for protecting vulnerable children - was among the most important. She pointed out that previously only Child, Youth and Family had those statutory responsibilities. Nor did she intend extra screening of employees who work with children to simply show the Government looked like it was doing something. Employers who do not follow the new screening and vetting processes face a $10,000 fine, and there is a $50,000 fine for any which employ someone on a register of convicted offenders who are barred from working near children.
Cabinet papers show Bennett had to return to Cabinet several times to get her policies signed off. The most controversial for those ministers were the Child Harm Protection Orders and the proposal for mandatory intensive and repeat screening of employees. The contention around mandatory screening was how widely it should apply. For the time being, it is restricted to government workers and staff of government-funded agencies who work with children. That will be reviewed in two years' time, leaving open the possibility it is extended to local government and the private sector.
When she announced the changes this week, she said it was the most important work she would do as a minister.
The "hard line" of her welfare reforms is seen as punitive for the vulnerable. But the "hard line" in the child abuse law changes is against two far less vulnerable targets: child abusers themselves and government departments which Bennett said had too often let children down by either ignoring or failing to take the necessary steps to protect them. Those are targets with which Labour cannot disagree.