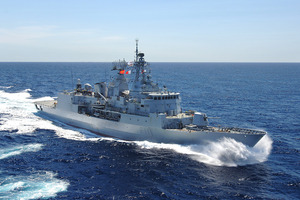 Prime Minister John Key says it is important to be part of a mission to stop Somali pirates in the Gulf of Aden because New Zealand goods travel through the area.
The New Zealand Navy frigate Te Mana left Devonport Naval Base yesterday to join 26 other countries in the Gulf of Aden.
The ship will arrive in November and focus on counter-piracy.
The New Zealand Defence Force say the ship's presence will act as a deterrent to Somali pirates.
The seven-month mission also includes an intensive training period with elements of the Australian Defence Force, and participation at the International Fleet Review in Sydney in October.
Mr Key said it was part of a wider training operation and was important because NZ goods were travelling through the area.
Commanding Officer, Commander Shane Arndell will be leading a crew of 177 into the anti-piracy mission. The ship is set to return in March.
- APNZ