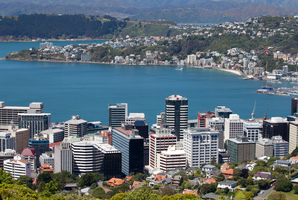 Property investor Sir Bob Jones is calling on the Government to ease the financial burden for commercial building owners who are required to earthquake strengthen their properties.
The Government is soon to announce the results of their public consultation into the strengthening process, such as the timeline for getting earthquake prone buildings up to code.
Following the 6.5 magnitude earthquake that struck the middle of the country last Sunday, more than 30 buildings in central Wellington suffered cosmetic damage and a lift shaft separated from a carpark, forcing the closure of a Luke's Lane.
Wellington City Council earthquake resilience manager Neville Brown told TV3's The Nation there would probably be a change to the building code following the Government public consultation process.
"But the immediate effect will be for those buildings which are currently earthquake prone - and I think what the marketplace is looking for is a decision about whether 34 per cent, which is the current minimum standard is going to stay.
"We have building owners who don't want to do building strengthening until they have that security."
Sir Bob said buildings were always initially built "100 per cent" to code, but every six or eight years, that code changed.
The people who changed the code should also be morally responsible for helping building owners upgrade their properties, he said.
"But they don't pay for it, they don't offer interest free loans, they don't even allow us to deduct that cost - they say it's not an expense."
Most owners could not continually fork out for building upgrades, Sir Bob said.
He said there was a "prejudice" by some Government ministers against property owners.
"It's quite childish. Somebody's got to support these office buildings, they rent them, this government, they don't want to own them themselves.
"Obviously at the very least that expenditure should be deductible."
Mr Brown agreed that it was a great expense for owners.
"We have a whole range of buildings that could be strengthened if there was some assistance from the Government and indeed we've asked for that through the consultation submission that we made and we're also about to make separate submissions to Government."
- APNZ