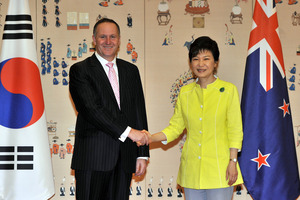 Free trade talks with fast growing South Korea are back on track following "blunt'' talks with President Park Geun-hye yesterday Prime Minister John Key says.
Talks free trade talks with Asia's fourth largest economy began in 2009 but have since stalled due to lobbying from South Korea's powerful agriculture lobby.
However following talks yesterday in Seoul with President Park, Mr Key said those discussions are likely to begin again in October.
"We've agreed that the Free Trade Agreement (FTA) is important, that discussions should resume and that we should try and find a way forward.''
Earlier yesterday while talking to 30 New Zealand Korean War veterans Mr Key said it was "not right or fair'' that New Zealand didn't have an FTA with South Korea given other nations which went to the country's aid during the war did, or were negotiating them.
Mr Key said that was a point he made to President Park, "quite directly''.
"There's no point in using the one hour we have with this nation and not being blunt.''
"In the end it's my responsibility on behalf of companies like Zespri and the meat exporters of New Zealand to say that our people can't compete.''
Those companies were in a situation where they faced a disadvantage that worsened by the week "as tariffs evaporate for the United States and Europe but stay in place for New Zealand''.
"She understands that point.''
While there is no guarantee that the talks will yield an FTA, Mr Key said South Korea largely had a history of completing such deals once talks began.
President Park and Mr Key also discussed North Korea and efforts to defuse tensions following the North's latest nuclear test and the launch of a satellite earlier this year.
"Let's work on the principle that there a lot of cool heads who will prevail here. People who have interests on all sorts of sides of this debate are really urging North Koreans to act sensibly and ultimately for people to get around the table and negotiate a way through.''
Mr Key has extended an invitation to President Park to visit New Zealand when her schedule permits.
The armistice commemorations continue this morning with Mr Key, as the only head of state of the nations that contributed to South Korea's defence in attendance, addressing the official 60th anniversary ceremony at Seoul's Peace Plaza.
Tomorrow the New Zealand party travels to the UN cemetery in southern port city Busan where 34 New Zealand who died during the war are buried.