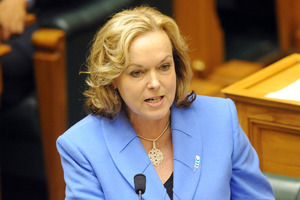 Laws removing restrictions for women and Roman Catholics from royal succession are still to be passed in New Zealand.
The Royal Succession Bill passed its first reading this month but has yet to go to Parliament's justice and electoral committee.
The historic change was approved by the Queen four months ago to ensure it was on the UK statute book before the royal birth, but only three of the 16 Commonwealth countries have agreed to the change.
The rule will ensure succession is not determined by sex - an older sister will precede a younger son in line to the throne.
The change will also remove a restriction barring a person married to a Catholic from the throne, although a Catholic will still be unable to become king or queen.
Justice Minister Judith Collins told Parliament during the first reading of the bill that the rules were outdated and could no longer be justified.
"It is important that our constitutional institutions such as the monarch retain ... their history and tradition," she said. "But it is also important that the rules that govern these institutions evolve to reflect the times in which we live."
Some MPs also questioned whether it was appropriate to pass legislation which excluded some religions.
To take effect the change has to be approved in all the Commonwealth nations.
- APNZ