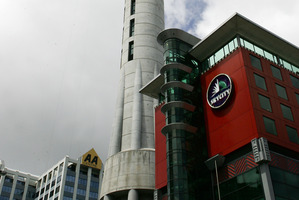 I try not to write about politics. I find it too shame-making. New Zealand "beltway" politics is cringe-worthy in the manner of a teenager embarrassed by their family. Political argy-bargy tends to be as predictable as the dreary gripes every family Christmas with Great Aunty Judith who never forgave rich Uncle David for selling the grandfather clock and once spat in his Christmas pudding. (No wonder New Zealand politics makes you want to escape out the back with your bad cousin and his hip flask.)
My instinct is that if you're going to be interested in politics you should find some issues more worth the effort than traffic congestion and house prices. Did you know 5000 people are being killed in Syria every month? Every. Month. On another unrelated note, this week I set up a Twitter account as an alter-ego so I don't follow anyone in New Zealand. So it's guaranteed 100 per cent Beehive-free, unless Terry Gilliam or Margaret Atwood suddenly develop an interest in Wellywood.
Sample tweets: "I hope when the guy who invented Tupperware dies they can't find a lid to fit his coffin." And "I try not to be condescending (that's when you talk down to people)." See? No John Key. I can highly recommend it.
But anyway, this is just a preamble to the fact that this week I'm afraid I have to break my resolute vow not to talk politics. Sometimes some small incident occurs, even a seemingly inconsequential toothpick-sized event, that makes you smack your hand down on the table: "This Government has gone off and is starting to smell."
For me, it was the revelation by blogger Russell Brown that new documents released by the Ministry of Economic Development show the SkyCity deal includes clauses that let the Government veto what events the planned New Zealand International Convention Centre (NZICC) can host. The final agreement gives the Government a veto right over events at the NZICC it considers could be "materially prejudicial" to New Zealand's international relations or even the NZICC's brand, or simply those deemed to be not of a suitable "type and style".
Until now, I tried to be pragmatic over the convention centre deal - it's creating jobs and man, do we need those - even though the price for getting them seemed decidedly whorish.
But this latest disclosure of what amounts to government censorship of gatherings is a step too far, piling on top of the civil liberties alarm around the hastily conceived GCSB bill.
Just to recap: the Government did a backroom deal with a private casino operator and is now demanding the right to tell the private operator what events it can run there. Talk about the worst of both worlds. You can't really blame profit-driven SkyCity for trying to get as much as they can out of the Government in this deal - although it was quite absurd for the major listed corporation to describe itself as being "victimised" by the process, the poor petal.
But you can expect the Government to abide by broad principles of transparency and freedom of expression. Sneer all you like at the left-wing devotion to notions of consultation and hand-holding, but that is starting to sound downright appealing in contrast to the Orwellian arrogance of Big Brother, oops Steven Joyce.
Key and Joyce seem to have started to believe their own hype and think they have a divine cult-like power invested in them which they are entitled to exercise without restraint.
It is the principle throwing aside freedom of expression that disturbs me most, but even in practical terms the censorship clause seems bizarre. What kind of events does National think might be held in the multimillion-dollar convention centre that it needs to scupper: "The Secret Terrorists' Ball"?
This clause seems one step away from banning the public's right to gather and protest. This censorship clause is the classic kind of despotic manoeuvre Muldoon would have tried to pull off at his most power-drunk. The domineering subtext to this is "We run this country and you will do as we tell you". Well, I won't.
Right, my Two Minutes' Hate on John Key is starting now. Care to join?