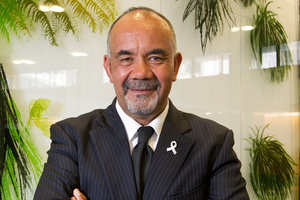 In his slightly tearful acceptance speech as the Maori Party's new co-leader, Te Ururoa Flavell spoke of his previous role as the party's official dishwasher.
He said he had seen footage of himself and Pita Sharples during the recent Ikaroa-Rawhiti byelection.
Dr Sharples was talking importantly on his phone. Mr Flavell was in the kitchen doing the dishes. "I've known my role in this party since it started."
He said the background work was some of the most important there was - the work of chiefs. Then, to much laughter, he added: "But I've finished that now, I hope."
Above anything, the Maori Party's annual hui was a morale-building exercise, aimed at assuring its members and its rivals that it had every intention of making it past its 10th birthday party next year.
For months, the party had struggled with the uncertainty over its leadership, followed by the bad result in Ikaroa-Rawhiti, where the Mana Party candidate, Te Hamua Nikora, beat the Maori Party's Na Raihania by about 700 votes.
Mr Flavell said he hoped to sit down soon with co-leader Tariana Turia and new party president Naida Glavish to map out a plan for the 2014 election and select candidates good enough to ensure the party could hold on to its electorates, especially after the retirements of Dr Sharples and Mrs Turia next year.
"The calibre of candidates is going to be a key factor in bringing people back to us.
"What we've learned is that personality means a hell of a lot in Maori politics. You've got to know what you're talking about, you've got to have somebody that is well known and has a profile and is willing to put their name forward."
That process would also include the hunt for the party's next female co-leader, although Mrs Turia will now stay on in that role until 2014.
Mr Flavell said he was heartened by the party's conference, which was well attended and robust despite fears for the party's future.
"There's a real determination on the part of people who came from all over the country to set us back on track.
"There was a lot of emotion in it because of the circumstances. But people want to get moving. Everybody was pretty happy in the end. There was a good spirit about the hui."
In all the talk of a Mana-Maori merger, the Maori Party conference made it clear that there are other ways to ensure there is only one Maori party. One is the annihilation of one of those two parties. The Maori Party's aim at the weekend was to send the message that it did not intend to be that party.
As for Mr Flavell, getting used to the leadership could take a bit longer. Within half an hour of the speech in which he ceremoniously gave up his dishwashing job, there he was moving through the tables at lunch clearing away great stacks of plates ready for washing.