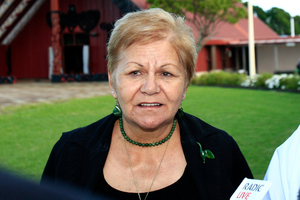 Naida Glavish has been chosen as the Maori Party's new President, after a run off with George Ngatai.
Ngatai had based his pitch to the membership on his youth and energy, and the two candidates also took different stands on whether to hold talks with the Mana Party, something Ngatai strongly favoured.
Glavish came to national fame in the 1980s when she was disciplined for answering on the Postal Board switchboard with "Kia ora."
Glavish said the back story to that was tikanga.
"When I doubted my own stand I held the voice of my grandmother urging me to continue to make the stand. Because it wasn't about me it was a matter of far greater importance than myself and my petty concerns."
She said she her belief in tikanga as a critical part of community remained strong. She also believed that the party needed to keep its stance of putting kaupapa above all else.
Ms Glavish said manaakitanga (hospitality) was one of the most important aspects to tikanga. "Manaakitanga is about being of service."
In her pitch to members before the vote, she had said she had been a staunch supporter of the Maori Party since Tariana Turia left Labour over the Foreshore and Seabed Act. "What did that for me was the courage of one woman, in the face of adversity, who stood up and crossed the floor."
Glavish is an advisor to the Waitemata and Auckland District Health Boards and chair of Ngati Whatua.