The American-born mayoral candidate says being a political virgin is good because you have no baggage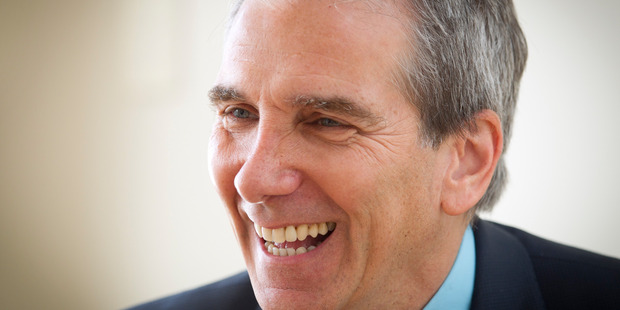 John Palino, mayoral candidate, restaurateur, businessman and actor, spent some time this week giving me a lesson on acting techniques. He always wanted to be an actor and has done some acting: a short stint on Shortland Street, small roles in Hercules and Xena, some ads.
He is currently in an ad for a sushi chain, for which he has taken some flak - he says the owner is a good mate, he likes sushi, he did the ad before he decided to stand and, shrug, he can't really see what the fuss is.
You'd think that if you were even thinking about standing, which he was, you'd think twice about doing an ad, even for a mate. That he didn't tells you what you already knew: he's no politician.
This is a good thing, he says; he has no political baggage; he is a "breath of fresh air". Not being a politician might also make him sound like a dreamer, a not very serious one. He introduced me to his campaign manager, former National Party president John Slater. So he's serious, all right.
And his political naivety might work in his favour, who knows?
As for his acting background, having encountered the eccentricities and theatrics of various mayors and mayoral candidates over the years, it shouldn't count against him. There is a performance aspect to being mayor. He does promise that he, unlike Len Brown, has never been known to rap.
He says he was a very good actor. He trained in the Meisner technique, which is about using your imagination. "Like when children play cowboys and indians - they use their imagination. I'll give you an example. Let's say someone calls you today and it's a family member and you go: 'Why are they calling?' Something must have happened and your mind starts to run away with you ... Or you get a message to call your school. Something happened to your child. Nothing happens to the child but you don't know that and all of a sudden your mind starts running ... 'Oh my God' and you're crying and it's like: 'What happened?' That's using your imagination."
It might be, if one was given to excessive melodrama. I was hoping he might turn out to be excessively flamboyant. He is an American of Italian descent from New Jersey who says "cawfee" and "dawg" but that's about it as far as dramatic effect goes. He's a methodical perfectionist; a businessman but he must have imagination.
He arrived here 17 years ago (in pursuit of a romance, one of many of his romances which failed) and now he wants to be mayor. Why not? Why might be the better question, if you consider him to be an unlikely candidate which of course he doesn't. To doubt that he could be the next mayor of Auckland would be a failure of the imagination, or of confidence, of which he has plenty.
He wants to be mayor because he is "very passionate about people". I had no idea what that meant. It means knowing what people want and what they don't. What they don't want is the Unitary Plan - but I wanted to find out about him and I must say he was very good about not insisting on giving the press-release-on-policy interview. He is very good-natured although not above giving a jab to Len Brown, so he might turn out to have sharp enough elbows for a political fight.
But what do we know about him? I asked somebody who knows about these things (mayoral candidates) for some clues and they said they didn't have the foggiest about him. In other words, he's hard to read, which is rather strange because, as he says, he has no baggage. What you see is what you get and what you get is ... I'm still not sure.
He says he has a high profile because of his TV show, The Kitchen Job, which screened from 2008 until 2010, in which he went about fixing failing restaurants a la Gordon Ramsay but without the tantrums and the swearing.
I thought it had been rather panned but he said no, it had terrific reviews. I looked up mine, which concluded that there was nothing wrong with the format but that there was nothing exciting or innovative about it either and that its host had a nice manner, in a mild-mannered way.
He does have nice manners. He provided a platter of pastries, thoughtfully cut up into bite-sized pieces for ease of talking and eating. I could have scoffed a lot more than I did while he talked but that would have been bad-mannered. And so is that, probably, but boy, he can talk.
He said: 'I know you're going to be hard on me." But he didn't really mean it because he is used to charming people. When he ran restaurants he'd talk to every customer. How annoying of him, I said. I could see him being one of those mine hosts who sit down at your table and rattle on. He looked a bit hurt and anyway I was quite wrong because he knows about hospitality and: "You know, look, Americans understand service and when to approach a table and when not to approach a table because you're making sure you get the most tips you can out of a person ... The incentive there is to be really good at what you do."
He is said to be a millionaire but, as he pointed out, all you have to do to be a millionaire in Auckland is to own a house. He wouldn't say how much he's got because it's personal. He lives in a smallish apartment in Kohi, with his fiancee, Rose Li. They are getting married in February. He is 53; she is 20 years younger. His father, who ran a banquet hall, told him that if he went into the restaurant business he'd never get married.
He has said he sacrificed family for his career which might make him sound both ruthless and a bit of a cold fish. "No, no. You know, America is a bit different from New Zealand. In America, when you retire you better have savings ... From the day you get a job, you're thinking: 'How am I going to pay pay for my kids' schooling? How am I going to do this?' I really worked hard and I lost a lot of relationships." He worked "110 hours a week" and no woman was prepared to put up with him having to go and fix the dishwasher because it had broken down on a Friday night.
So he's now out of the restaurant business and has finally found somebody to marry and he's desperate to have kids - he is so emotional about this I thought he was going to come over all Italian. And so what does he do? He runs for mayor. I said I thought being the mayor sounded pretty much like a job where you work 110 hours a week and where the dishwasher breaks down on Friday nights. "You know, the funny thing is I finally met a woman who is perfectly fine with that. Maybe because she's Chinese and they understand what work means."
Was he going to invite John Key to his wedding? I asked because he's been busy having his picture taken with the PM at dos, which is no doubt good for a right-wing mayoral candidate's profile. "Well, of course!" He says he was misquoted as saying that he had the Nats' backing but he wasn't misquoted when he said there was a sort of "subconscious" tick from the party for him.
He hopes to invite the PM to his wedding. Was he a good friend? "No." Why would he invite somebody who wasn't a good friend to his wedding? "If I have a wedding when I'm mayor, then I would invite people that should be invited." Does he mean it would be good for the mayor to have the PM at his wedding? "I have no idea. I thought that would be the most respectful thing to do. Maybe it's not. If you say it's not, maybe it's not!"
Were there going to be any more photographs of him with the PM? "I don't know. I don't think I need any more. I need photographs of other people. Can I get a photograph with you?" He said he'd let me decide whether he had charisma; I think we can settle for cheek.
He is an Italian who hardly ever drinks; he's been drunk three times in his life and is hopeless at it. He says he is a good Catholic and has never taken off his confirmation ring. He attends St Patrick's Cathedral. And he lives in sin! "Shocking, huh! If that's the worst ..." Is it? "What am I going to tell you? That is the worst."
It is because he was always working and worrying about money and had no time for anything worse. He envied his actor mates who could live on nothing but he couldn't do it. He certainly doesn't believe in wasting money. He bought his suit at the outlet shop at Dressmart in Onehunga. What a cheapskate! "It's a beautiful suit! I got it for, like, half price! I love that. I put it on and I go: 'This is great!"'
He says his profile is of a person who helps other people, because of the show, and he might be right. But can he really think he's going to beat Len Brown? "Absolutely. Seriously.
"Let me ask you a question ... If you're running a business, do you want a lawyer running a business or would you want a business owner running a business? A lawyer can't run a business. What's a lawyer all about? A lawyer's all about keeping everything to himself and not telling anybody anything and that's the problem we have right now with the council."
I'd actually forgotten that Len Brown was a lawyer. But he had rather set himself up: Do we want an actor running our business? "Well, look who ran the United States? Ha, ha. He was great!"
He told me a very long story about his only business failure which wasn't his failure but that of a business partner. I was completely lost by the end and had to ask what the point was. The point was that the partner was a lawyer, so: "Never let a lawyer run your business!"
He should have left it there but as I may have mentioned, he likes to talk. He had one last story, about meeting a chap who he thought had recognised him from the show. "So I said: 'Hi. How are you? Did you recognise me from the show? And he goes: 'Actually, I thought you were Len Brown!"' A politician would never have told that story. He should never have told me that story.
"Made you laugh though!"
It did; it was endearingly naive. How you balance that with his tough cookie business persona, I haven't the foggiest.