Labour MPs deny involvement after poor polling and man ban drama sparks rumours of no-confidence vote.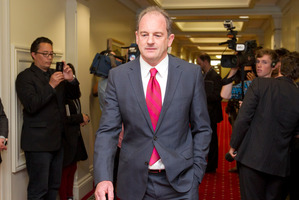 Labour MPs at the centre of rumours about a leadership move within are adamant that there are no moves under way to oust David Shearer.
Mr Shearer, the party leader, has asked to be given a "fair go" by media rather than sideswiped by rumour and innuendo.
Speculation was sparked after Radio Live's Duncan Garner tweeted on Tuesday night that a source had told him a no-confidence letter was circulating after disappointing polling and concern about Mr Shearer's handling of the proposed women-only selection process.
Labour MPs denied any reports of a letter and reacted angrily, accusing media of trying to destabilise the party through coverage of the rumour, and demanding over Twitter that Garner apologise.
Yesterday on TV3's Firstline, Mr Shearer said the rumour was "bizarre" and that he should be given a "fair go". "A fair go to have facts reported rather than innuendo and rumour."
Some MPs said there was some unhappiness about the polling and the handling by Mr Shearer as well as the party itself over issues such as the "man ban".
That became a political hot potato for three days before Mr Shearer persuaded the party's council to drop it.
Labour MPs said they had not heard of any moves against Mr Shearer. Those fingerpointed as involved in the rumour included Andrew Little, Shane Jones and Clayton Cosgrove - all of whom have strongly denied it.
Mr Cosgrove said it was "bulls**t". Mr Little said he did not know why the rumours had sprung up. "There is no leadership contest, there are no letters, there are no signatures, there are no delegations. It's not an issue."
Deputy leader Grant Robertson also denied any knowledge of a letter or move to oust Mr Shearer, and had asked all of the Labour MPs the same.
Asked about his own ambitions, he said "what I am doing is focusing on the deputy leader and supporting David and getting Labour into Government in 2014".
In Parliament yesterday, Prime Minister John Key suggested Mr Shearer should visit NZ Post "because it has got a letter waiting for him from the Labour Party caucus".
Steven Joyce also took aim at Mr Shearer, saying it was clear that the "red meat division" of Labour - Mr Jones, Mr Cosgrove and Mr Little - were clearly jostling for primacy. "First, we had the man ban, then we had the ban of the man ban, and then, very nearly, we had the demise of the man who banned the man ban."
The man ban was expected to be discussed at the party's Northland and Auckland regional council's monthly meeting last night and one source said that some members were expected to push for it to be reinstated, partly in protest at the way it was unilaterally dropped rather than taken to members to vote on.
Rocky road of leadership
* December 2011: David Shearer is elected as leader after a selection battle against David Cunliffe.
* November 17-18, 2012: Labour Party decides to give members and affiliates a vote in future leadership elections. Also passes a remit under which 40 per cent of caucus could force a leadership ballot. David Cunliffe repeatedly refuses to rule out a challenge against Mr Shearer. Shearer calls a caucus vote to endorse his leadership.
* November 20, 2012: Shearer is unanimously endorsed by Labour's caucus. Shearer demotes Cunliffe for disloyalty.
* February 4, 2013: Mr Shearer is endorsed by more than 60 per cent of caucus at the regular three-yearly endorsement vote of the leader.