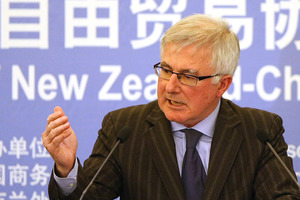 Trade Minister Tim Groser last night welcomed New Zealand's latest free trade agreement, with Taiwan, which will see the removal of tariffs on virtually all of New Zealand's exports within four year and establishes an open skies agreement.
Once the FTA is fully implemented the eliminated tariffs will equate to an annual saving of $75.8 million on the basis of current trade but the agreement is also expected to significantly lift two-way trade.
The agreement for the first time, includes a chapter on indigenous co-operation given that DNA profiling identifies Taiwan as the origin of the Maori and other Polynesians.
It includes a schedule of 132 so-called "environmental goods" which will be freely traded immediately, goods that are deemed to have a role in addressing climate change, soil, water and air pollution or has a role in management of waste and waste water.
And it includes a liberalisation in services that will allow New Zealand institutions to operate schools in Taiwan and encourages film and television co-productions.
Mr Groser said the agreement would "enhance New Zealand's growth prospects through vastly improved links with a major Asian economy."
It would immediately eliminate the tariffs for over 70 per cent of current exports to Chinese Taipei and would eventually allow 100 per cent of New Zealand goods to enter tariff-free.
Mr Groser also drew attention to the indigenous cooperation chapter, saying it drew on the unique connections between Maori and the indigenous people of Chinese Taipei.
Taiwan is a market of 23 million people, which takes $900 million a year in New Zealand exports, and is New Zealand 8th largest export market.
The types of goods on the "environmental goods" list includes goods used in hydro-electric power generation, parts for solar water heater and bicycle inner tubes.
The open skies agreement removes any restriction on the frequency of flights between New Zealand and Taiwan - currently seven a week.
The agreement was signed in Wellington last night between the ambassador equivalents of the two countries.
Mr Groser issued a statement from Washington where he is meeting the new United States Trade Representative, Mike Froman [CORRECT].
But he would not have attended the ceremony in Wellington even if he had been here because New Zealand does not have diplomatic relations with Taiwan, or Chinese Taipei as it is known in accordance with its One China policy.
The agreement is formally between New Zealand and the Customs Territory of Taipei, Penghu, Kinmen, and Matsu on Economic Co-operation or ANZTEC.
New Zealand now has free trade agreements with China, signed in 2008, and an economic partnership agreement with Hong Kong, signed in 2010.
New Zealand's lead negotiator was Charles Finny, who was director of the New Zealand Commerce and Industry Office in Taipei from 2001 - 2004, New Zealand's equivalent of ambassador.