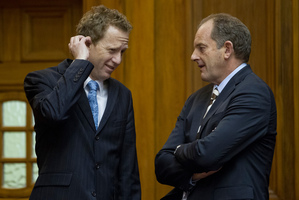 Political parties routinely drop policies that, for whatever reason, are thought to be hindering their electoral prospects. John Key abandoned the encumbrance that was National's opposition to Maori seats. David Shearer has discerned, correctly, that removing GST from fresh food is not a sensible step and would be viewed that way by many potential Labour voters. No shame should, therefore, be attached to the Greens for dumping their call for quantitative easing - essentially printing money.
Having floated the idea and attracted the mirth of the Government and a thumbs-down from economists, the party has conceded it is an electoral liability and a potential stumbling block in terms of its standing in a future Labour-led government. Hopefully, the policy will come to be viewed as a hiccup.
At the last election, the Greens greatly advanced their cause by promoting an economic manifesto that was both innovative and orthodox.
Moving beyond dogma, they proposed creating a large number of jobs through the exploitation of this country's environmental credentials and technological expertise.
The focus was to be an export industry in renewable energy technology, especially geothermal power. The potential was probably overstated, but the electorate relished the Greens' new-found reality. Much of this gain was undoubtedly erased by their decision last October to promote quantitative easing.
Advancing this as a way of reducing pressure on the New Zealand dollar, the Greens noted it had been adopted in recession-hit economies such as the United States, Britain and Japan. Their situations were, however, far more dire than that of this country. Unlike here, their central banks had already cut policy rates back to zero, leaving no option but to adopt unconventional means of monetary stimulus.
The potential inflationary impact of printing money has led economists to describe it as a desperate last resort. This was the cue for the Government to paint the Greens as economically radical and to talk about snake-oil solutions. "If printing money made you rich, Zimbabwe would be the richest nation on the planet," said Mr Key.
The electoral implications of such ridicule were only part of the problem. The policy, which springs from a Greens discussion document, was never supported by the Labour Party. It has identified, quite correctly, that in neither fiscal policy nor conventional monetary policy is there a situation that demands the printing of money to invest in earthquake bonds and to buy overseas assets to rebuild Earthquake Commission funds.
It was, said Greens co-leader Russel Norman, "pretty clear that there's not consensus" among the parties that would make up an alternative government.
His pragmatism in dropping what had become a handicap to centre-left efforts to unseat National was duly welcomed by Labour. Its finance spokesman, David Parker, described the Greens' stance on quantitative easing as unhelpful. That, increasingly, was an understatement. Labour's closer ties to the Greens meant it was going to be tarred by any criticism of the latter. Further, any more sensible criticism of Government economic policies was bound to be undermined by retorts about the wackiness of quantitative easing. In that context, Mr Shearer was right to insist that Dr Norman would not be the finance minister in a Labour-led government. That position would go to the relatively orthodox Mr Parker.
It may never have been realistic for Dr Norman to expect that job. At best, he may have been accommodated in some new role, subservient to the finance minister. Even that is probably now out of the question. A welcome mat should, however, be laid out for the Greens' return to a more reasoned economic policy.