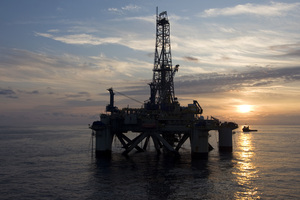 Labour says it remains cautious about deep-sea mining but has accused the Government of putting all its economic eggs into one basket, despite "fundamental" public opposition on the East Coast.
Labour Party deputy leader Grant Robertson and list MP Moana Mackey accompanied the party's Ikaroa-Rawhiti by-election candidate Meka Whaitiri to Gisborne yesterday.
Ms Mackey, the party's spokeswoman on energy and climate change, said oil and gas exploration appeared to be the Government's only plan for the Gisborne-East Coast region.
The industry had said the chances of a commercially viable discovery was remote, yet the Government presented mining as a economic saviour.
"My challenge to the Government is: What else are they going to do if this is not going to work?" Ms Mackey said.
Labour had revised its policy in the wake of disasters such as the Rena running aground off Tauranga and the Gulf of Mexico oil rig explosion.
The type of deep-sea mining that would be required off the East Coast had not occurred elsewhere in New Zealand.
"If something goes wrong, who is going to pay for it?"
Ms Mackey said Labour wanted good regulations and a process for mining companies.
The Economic Exclusion Zone Bill, which would cover deep-sea mining, was "utterly weak" and permissive.
"We have real environmental concerns - the environment has to be paramount.
"We have to put in a process for companies and not make political decisions based on how popular or unpopular a project is.
"If a project gets through the process - ka pai. If our bottom lines are not reached - sorry.
"That's being responsible.
"Fundamentally, this cannot be the only egg in the Government's economic basket.
'That's a hell of a risk in a region crying out for jobs."
Ms Whaitiri said iwi offered significant economic opportunities.
Ms Mackey said low-priced trading emission units were harming Ngati Porou Forests and preventing significant Australian investment.
Greater certainty in carbon pricing would result in job creation.
People here fundamentally opposed deep-sea mining because no National Party MP had ever "fronted up" to explain the risks and how to mitigate them.
Mr Robertson said there was greater competition for his party under MMP but he believed Labour was still the best option for Ikaroa-Rawhiti voters.
Core Labour issues like housing, jobs and education appealed to voters but the candidate was very important in a by-election.
"It's about having networks," said Ms Whaitiri.
"Parekura Horomia had his, I've got mine."
Meeting people face-to-face, making personal contact and how many times was important.
"Whakapapa is also important but some dine out on that as opposed to doing stuff".
Ms Whaitiri said she had met voters "up and down the Coast" who might not support the party but supported her.