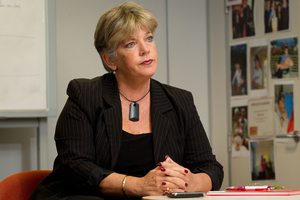 Auckland Deputy Mayor Penny Hulse says she is confident the Government will address concerns about provisions in new legislation allowing Wellington to take control of housing developments in Auckland.
Ms Hulse yesterday presented Auckland Council's submission on the Housing Accords and Special Housing Areas Bill which will allow for partnerships between central and local Government to fast-track housing developments.
Discussion around the legislation has been dominated by the "override" provisions inserted in the bill by the Government after it agreed a housing accord with Auckland Council days before the Budget.
Following yesterday's select committee hearing Ms Hulse said the council had made its concerns clear about the override provisions.
"We're confident that the legislation is going to be amended."
Asked if that meant the override provision would be removed, Ms Hulse said: "We're absolutely clear that if the accord is going to get off the ground the legislation will be amended accordingly.
"I firmly believe that Government will understand they're working with a willing partner and that a large stick might not be necessary."
Ms Hulse said she, councillor George Wood and Auckland Council chief planning officer Roger Blakely had also expressed their concerns that the legislation didn't sufficiently prioritise affordable housing.
"The other key thing is the way special housing areas are decided needs to be done hand in hand with the Auckland Unitary Plan. That's the freshest and most up to date and most mandated piece of planning that we've got."