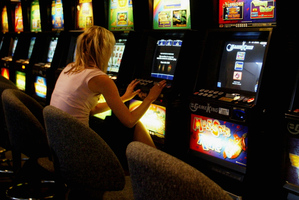 Three-quarters of New Zealanders who call a gambling helpline end up quitting or significantly reducing their gambling, the world's largest problem gambling study has found.
The study, by AUT's gambling and addictions research centre, tracked 462 first-time callers to the Gambling Helpline over the course of a year.
It found 75 per cent of callers had met their own goal of quitting or significantly reducing their gambling a year later.
The trial led by the dean of AUT's department of health and environmental sciences, Professor Max Abbott, was the largest anywhere in the world to look at the effectiveness of gambling treatments in a real-life setting.
Dr Abbott said the study found participants had reduced their gambling from an average spend of about $30 a day to about $3 a day - a 90 per cent decrease.
Most had improved within the first three months and managed to sustain that over the course of the year.
"The really striking finding here is actually how well people do, generally speaking. It's pretty impressive," Dr Abbott said.
"You can get statistically significant results in studies, but unless it actually has a real impact on people's lives, then what's it matter? But not only is this statistically significant, it's highly clinically significant."
Participants either received a standard helpline treatment, a single motivational interview, a motivational interview plus a self-help book, or an intensive programme including an motivational interview, self-help book, and four follow-up phone interviews.
Dr Abbott said researchers had expected the most intensive treatments to be the most effective - but, surprisingly, each of the four interventions was similarly effective.
"What we found was that callers in all groups made similar progress. All the interventions work well and more treatment is not necessarily better than less.
"Not only did most participants significantly reduce their gambling and gambling-related problems, their mental health and quality of life improved markedly."
Dr Abbott said the results showed even relatively brief interventions could be effective for most people.
"It's good news for the Government that's funding these services, it's good news for people who are seeking help, it's good news for families and the wider community, given the huge impact and social cost of problem gambling in this country."
Dr Abbott said most people seeking help had problems with pokie machines in clubs and pubs. That was followed by track betting and, increasingly, online gambling.
Pokie machines in casinos were also an issue, with Pacific people seeking out help more than other groups.
The trial revealed some differences between sub-groups, with Maori and people wanting to cut down, rather than quit, benefiting more from the most intensive treatments.
It also showed Asian and Pacific people were not accessing the helpline at the expected level, given the prevalence of problem gambling in those communities.
However, services other than the national helpline were available for both groups.
Researchers will follow up with participants, who were recruited between August 2009 and February 2011, again at three years.
Dr Abbott said that was important because studies had shown people with serious gambling problems were more likely to relapse.
The peer-reviewed study was funded by the Ministry of Health and a report on its findings was submitted to the ministry in December last year.
The first journal article based on the findings is expected later this year.
WHERE TO GET HELP
Gambling Helpline: 0800 654 655 (24 hours/7 days)
Maori Gambling Helpline: 0800 654 656
Pasifika Gambling Helpline: 0800 654 657
Youth Gambling Helpline: 0800 654 659
Gambling Debt Helpline: 0800 654 658