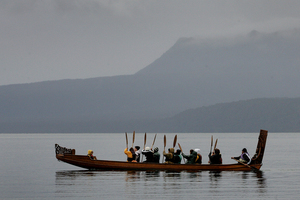 More than 1000 Tuhoe people are expected at Parliament this afternoon to witness the historic signing of the iwi's deed of settlement with the Crown.
Tuhoe has had one of the most strained relationships with the Crown throughout history, and the iwi's negotiator Tamati Kruger said this morning that the $170 million settlement would help redress that.
"We've been trying to negotiate these things for over 150 years. There have been systematic failures over that time.
"I think we all sensed within Te Urewera that this was going to be the right time. We had the right people around, there was a feeling of readiness to deal with a disappointing history and stop the habit of that history failing New Zealand as well as Tuhoe.
"It was a combination of things and I'm just really grateful that I'm going to witness a very historical moment this afternoon, which puts to end a lot of anger and grief between Tuhoe and the Crown,'' Mr Kruger said.
Minister for Treaty of Waitangi Negotiations, Chris Finlayson, said all Treaty settlements were unique and had special features. He said Tuhoe's recognised the historical treatment by the Crown, including breaches of promises.
"I think it's been very important to get to know the facts. If you know the facts then you can see why we're doing what we're doing today. If there are any folk out there who doubt the validity of why we're doing what we're doing, I suggest they read the history.''
In Tuhoe's case, the most significant features include creating a new legal entity so Te Urewera National Park is owned neither by the Crown nor Tuhoe, but gives Tuhoe an increasing management role over time.
The other is the `mana motuhake' clause, giving Tuhoe a greater role in delivering social services to its own people.
About 90 per cent of Ngai Tuhoe ratified the deed of settlement, which Mr Kruger said he was pleased with.
"We've tried our best, both the Crown and Tuhoe, to get a proper and honourable deed of settlement, We do believe we've done the best we can.''
Although about seven hapu do not support it, he said its provisions were for the benefit of all Tuhoe people, not just those who ratified it.
The settlement signing comes just a week after the release of an Independent Police Conduct Authority report into the police raids on Ruatoki in 2008, but the negotiators hoped it would not overshadow the signing. Mr Finlayson said that was a matter for another day.
The signing ceremony will be live-streamed on www.ngaituhoe.iwi.nz.