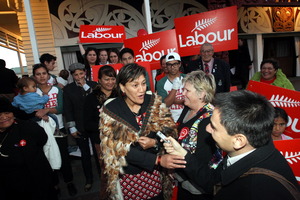 The competition is heating up for the Maori vote in the Ikaroa-Rawhiti by-election next month.
Contenders from the Maori, Labour, Mana and Green parties have been selected to fill the shoes of Labour MP Parekura Horomia, who died at the end of April, sparking the by-election.
At a hui in Taradale on Sunday, Meka Whaitiri was chosen by the Labour Party to replace Mr Horomia, who held on to the Maori electorate for 14 years.
Also contesting the seat are the Green Party's Marama Davidson, the Maori Party's Na Raihania, and the Mana Party's Te Hamua Nikora.
The Maori Party claimed in a statement that recent polling indicated it would be "a two-way race between the Maori Party and the Labour Party".
Mr Raihania is a trustee for Ngai Tamanuhiri Iwi and chairs two health boards.
Ms Whaitiri, chief executive of Ngati Kahungunu, the third largest iwi in New Zealand, is widely tipped to win the race.
"I am humbled that the Labour whanau of Ikaroa-Rawhiti have chosen me to represent them. This is a responsibility I take very seriously, as Parekura always did,"she said.
"This selection process has shown that Labour is in good health and I'm looking forward to getting out there and earning the support of Ikaroa-Rawhiti."
Green Party candidate Ms Davidson works for the Owen Glenn inquiry into family violence and child abuse and has previously worked for the Human Rights Commission.
Mana's Mr Nikora, a broadcaster, is a nephew of Mr Horomia, whom he credits as a big influence on his decision to run for the seat.
Voters in the electorate, which stretches from Gisborne to Wainuiomata, go to the polls on June 29. National and NZ First are not contesting.
For more articles from this region, go to Wairarapa Times-Age