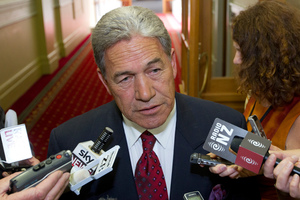 New Zealand First is opening new offices in Tauranga following former party MP Brendan Horan's unceremonious departure last year.
NZ First leader Winston Peters confirmed to the Bay of Plenty Times its new office on Cameron Rd, by 17th Ave, would formally open this week.
Mr Peters said reopening an electorate office in Tauranga was significant and "extremely important to me personally".
NZ First was created by Mr Peters when he was MP of Tauranga and it won the Tauranga seat in the 1993 general election. Up until December, its offices had been located at Rata St, Mount Maunganui.
"We had the office there when we came back after the last election but to our bitter regret it's occupied by someone [else]. That's why we have to start another office in the party's name."
In December, former NZ First MP Brendan Horan was expelled from the party amid allegations of money missing from his dead mother's estate.
Mr Peters said the matter forced the party out of the Rata St office, as Mr Horan's name was on the lease.
"We were seriously, seriously disappointed with what happened there.
"It's important I want to make sure that my party ... gives it the best possible shot we can."
Mr Peters said he would spend time at the Cameron Rd office once a month, as would party representatives from Auckland and Hamilton. The office would be fully manned at all times, he said.
Tauranga was a priority for NZ First, Mr Peters said.
"We made a lot of progress in Tauranga over a lot of things. So yes, we've got many reasons [for reopening a Tauranga office]."
NZ First supporter Joyce Robertson was "absolutely delighted" at the reopening of the office on Friday.
"We need NZ First. After all, this is the home of NZ First. It started here in Tauranga so it's only right and proper that it's back in the city," Mrs Robertson said.
"You get lots of people who want official information or want to speak to an MP for matters that can only really be dealt with in a Parliamentary office."
Mr Horan said the Rata St office was his electorate office, where he continued to work as an independent MP.
He said he wished NZ First well in its new location.
For more articles from this region, go to Bay of Plenty Times