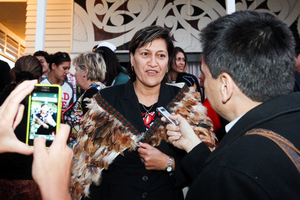 Ngati Kahungunu chief executive Meka Whaitiri yesterday won selection to stand for Labour in next month's Ikaroa-Rawhiti byelection to replace the late Parekura Horomia.
The contest is understood to have come down from six contenders to a close race between Ms Whaitiri and TVNZ broadcaster Shane Taurima.
Ms Whaitiri is now almost assured of a seat in Parliament. Labour is expected to easily win the June 29 byelection for the Maori electorate, which stretches from East Cape to Lower Hutt.
Ms Whaitiri, the mother of two teenage sons, took up her role with Ngati Kahungunu in 2009 after a career as a public servant, including a stint working for Mr Horomia.
Her campaign was helped by a video which included an endorsement from Boy director Taika Waititi.
Labour leader David Shearer last night said Ms Whaitiri was "an outstanding candidate".
"She is committed to serving the people of the electorate and continuing the work of Parekura Horomia, who left a huge legacy."
Mr Shearer indicated Labour would speak to the unsuccessful nominees about possibly standing in the future.
"They're all people who have made remarkable achievements in their careers and they're also dedicated to serving their communities."
Ms Whaitiri said she was humbled at being selected to represent "the Labour whanau of Ikaroa-Rawhiti".
Yesterday, the Green Party selected former Human Rights Commission adviser Marama Davidson as its candidate.
The Maori Party's candidate is Na Raihania, and Mana has selected Te Hamua Nikora. National and NZ First are not contesting the byelection.